We need your help. The economic fallout of the coronavirus crisis is threatening our ability to keep producing the quality reporting you've come to love. If you're able, please consider making a monthly contribution to the Mercury.
GOOD MORNING, PORTLAND!
Fake friends get dropped like weight. Team love, don't want no hate. I'm grindin', I'm shinin',
up, up, up on my way.
LET'S GO TO PRESS.
Sponsored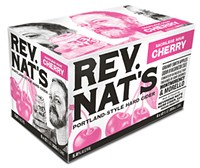 No-fee, same-day delivery of Rev Nat's Hard Cider & Old Town Brewing throughout Portland Metro
• THE TOP STORY: President Trump and First Lady Melania Trump have tested positive for COVID-19. The two are currently quarantining, and both are reportedly experiencing "mild symptoms" but Trump is expected to continue his work for now. Hours before the announcement, it was learned that senior aide Hope Hicks had tested positive and was displaying symptoms. Other top members of the Trump administration are being tested as well as they have all been in close contact recently, while VP Mike Pence—the next in line for the presidency—has so far tested negative. While men of Trump's age, weight, and general unhealthiness are at a greater risk of fatal consequences from the virus, most survive with mild symptoms. In any case, Trump will likely be forced off the campaign trail until the election, and we won't be subjected to any more of his eye-rollingly terrible debates. SO THERE'S THAT.
This is an important point. The White House didn't volunteer this info. It came from journalism. https://t.co/S13IMEGsWA
— Rob Manning (@RManning47) October 2, 2020
• Back to local news: When Oregon State Trooper head Travis Hampton unilaterally decided to federally deputize Portland Police and Multnomah County Sheriff's officers for last weekend's Proud Boy rally, which was then followed by US Attorney for Oregon Billy Williams allowing them to keep their super-charged federal powers to the end of the year, it was an alarming act of Trump-style overreach. And according to some, the act is endangering our First Amendment rights, personal safety, and pushing us toward a constitutional crisis. Our Blair Stenvick has more.
• Portland city councilperson Jo Ann Hardesty has a detailed plan if she is chosen as police commissioner, including replacing current PPB chief Chuck Lovell. However Mayor Ted Wheeler seems to have no intention of giving up his job as commish.
• Despite Portland's strict campaign finance limits, Mayor Ted Wheeler has loaned his campaign $150,000 using his own money to make up for a lack of donations to his reelection bid.
Ted Wheeler has scored a large donation from Ted Wheeler. https://t.co/gSgFKfBp29
— OPB (@OPB) October 2, 2020
• An air stagnation advisory is in effect for Portland over the next few days, with air quality currently in the "moderate" zone meaning those with respiratory problems should take care.
• The Oregon Health Authority is advising against trick or treating this Halloween, and are suggesting parents offer kids other fun activities to participate in that will be safer.
IN MORE NATIONAL NEWS
• Trump joins a growing list of world leaders who have also contracted COVID-19, many of who—like the president—tried to present the virus as a hoax.
After Trump tests positive, Chief of Staff Mark Meadows addresses the press WITHOUT A MASK.

He says he doesn't need one because he tested negative.

It doesn't work that way.

Trump also tested negative until he didn't. pic.twitter.com/ky1ZgXMmJz
— Judd Legum (@JuddLegum) October 2, 2020
Scoop: GOP donors are panicking after being around President Trump during a fundraiser at his golf course in Bedminster. 30 to 50 donors were close to six feet of the president at the event, most of the interaction was outside.https://t.co/mhC9cWPNsZ
— Brian Schwartz (@schwartzbCNBC) October 2, 2020
• Trump also joins the 300,000 other Americans who contracted COVID-19 this week—though as the president, his case could've certainly been avoided. As lung specialist Dr. Vin Gupta puts it:

"This was avoidable. This did not have to happen if they were practicing the proper procedures and not going to these rallies and having these chaotic events, where, of course, airborne exposure was going to happen despite it being in an outdoor setting. No masking, no distancing — what did they expect was going to happen?"
• For those who are curious, here's a list of all the events—including flying with many of his family and advisors (like Hope Hicks) to the debate with Joe Biden—that Trump attended in the days leading up to his positive coronavirus test.
• Because there's a good chance he was in the proximity of infected Trump staff during this week's debate, Joe Biden will be tested for COVID-19 today.

JUST IN: The Biden-Harris campaign confirms to NPR's @jmsummers that Democratic vice presidential nominee Kamala Harris was tested yesterday for the coronavirus as part of the campaign's routine testing. Her test was negative.
— NPR Politics (@nprpolitics) October 2, 2020
• An audio recording of the Breonna Taylor grand jury proceedings is expected to be released today and could shed light on how the jury was led to exonerate the officers who wrongly burst into her apartment while she was asleep and shot and killed her.
• In "This Is Some Corrupt BULLSHIT" news: Democracy-hating Texas Gov. Greg Abbott has drastically reduced the number of drop-off sites for mail-in ballots in areas of his state that are heavily populated by Democrats and people of color. This is exactly why EVERY Republican without exception should never be elected to any office ever again.
• In 2006, Amy Coney Barrett, Trump's extreme religious nominee to the Supreme Court, signed a newspaper ad claiming that abortion was "barbaric" and advocated for overturning Roe v. Wade.
Senate Republicans said they would press ahead with confirming Judge Amy Coney Barrett to the Supreme Court before Election Day, even as they scramble to figure out if anyone involved in the process has the coronavirus. Barrett tested negative on Friday. https://t.co/7Xa6lOIc2n
— The New York Times (@nytimes) October 2, 2020
• Here's a story that got quickly buried yesterday by the president's COVID diagnosis, and that's too bad, because it's HILARIOUS: "Melania Trump Whines About FLOTUS Role in Secret Recording: 'Who Gives a F*ck About Christmas Stuff?'"
• Now let's peer skyward at the WEATHER: A hazy, sunny weekend with highs in the low- to mid-70s.
• And finally, I promised myself that I would steer clear of any Trump/COVID jokes this morning, because… JOURNALISM. However it would be a dereliction of duty not to share this:

Is this what Obama meant when he said we should rely on Hope
— Mohanad Elshieky (@MohanadElshieky) October 2, 2020