We need your help. The economic fallout of the coronavirus crisis is threatening our ability to keep producing the quality reporting you've come to love. If you're able, please consider making a monthly contribution to the Mercury.
Sponsored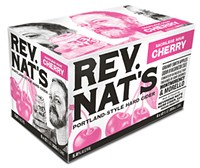 No-fee, same-day delivery of Rev Nat's Hard Cider & Old Town Brewing throughout Portland Metro
Good morning, Portland!
While we had a dang beautiful weekend, it's time to prepare for the colder, wetter pandemic days ahead. Today will see a high of 72, but the week ends with a rainy streak in the mid-50s. Now, the weekend news wrap-up you've been waiting for:

- Surprise! The Oregonian's editorial board endorsed the two candidates in the November City Hall race we all knew they would: Ted Wheeler (for mayor) and Mingus Mapps (for Commissioner Chloe Eudaly's council seat). I'll say it: I'm disappointed by how truly predictable their reasoning is. In summary: Cops good, business good, homelessness icky, change scary, opinionated women bad! P.S. Stay tuned for the Mercury's endorsements next week!
- Meanwhile, the Oregonian's Everton Bailey sat down with mayoral hopeful Sarah Iannarone for an in-depth Q & A about her second run for City Hall's top seat.
- Portland protest update: A Portland police officer drove his motorcycle into a protester Friday night and just... kept driving? Creme Brulee, a comedian/artist/dancer active in the local protest scene was arrested over the weekend after appearing to be intentionally targeted by undercover federal agents during an art therapy meetup. And protesters have a new meeting spot: Multnomah County's brand-new (all-glass) courthouse.
- Violence broke out when a racial justice protest was crashed by a pro-Trump rally in Bend over the weekend, with one pro-Trumper pointing a gun at the crowd. According to OPB, "City of Bend police confiscated the gun, and let the man go." Sounds about right white.
- PSA: "Aggressive owls are attacking visitors to the San Juan Island National Historical Park" in Washington.
- Gay men have taken over the hashtag #ProudBoys and I couldn't be happier:
My husband Jeff and I are #ProudBoys Together for 24 married for 12. pic.twitter.com/VN56qQDA7c
— CESmith56 (@CESmith56) October 5, 2020
- Donald Trump is still in the hospital with COVID-19, and his doctors continue to paint a rosy picture of his recovery—even though it remains preeeeetty unclear how serious his case is. Some medical experts (none of whom are actually Trump's doctors, however) have speculations that it may be worse than we're being told. Despite these uncertainties, Trump's still on the campaign trail: Over the weekend, he hotboxed an SUV with COVID-19 and forced his secret service agents inside so he could put on a brief "I'm not dead!" parade. Here's what that looked like:
Trump drives by the press and supporters outside Walter Reed hospital. pic.twitter.com/3phtKthqTH
— Philip Crowther (@PhilipinDC) October 4, 2020
- Oh, and White House press secretary Kayleigh McEnany has tested positive for COVID-19.
- It's finally time for the most-anticipated showdown of 2020: the Vice Presidential debate! Mike and Kamala will meet on the debate stage Wednesday night, now with the added pressure of Pence maybe being president if that other guy dies?
- With at least two Republican members of the Senate Judiciary Committee testing positive with COVID-19, Democrats are pushing to postpone the October 12 confirmation hearing for Supreme Court hopeful Amy Coney Barrett until after the election, citing safety concerns. Bad news: They don't have any real legislative power to do so. Here's hoping!
- The Senate is poised to pass a $2.2 trillion coronavirus relief package that includes a complete ban on evictions over nonpayment for a full year after the bill is passed. The legislation has already passed the House of Representatives.
- Pope Francis says the coronavirus pandemic has proven that the "magic theories" of capitalism have failed. Says Francis: "Anyone who thinks that the only lesson to be learned was the need to improve what we were already doing, or to refine existing systems and regulations, is denying reality." 🤘