After spending the summer indoors social distancing, it looks like Portlanders are poised to spend winter outdoors to safely enjoy drinking and dining. This seasonal switcheroo is merely one more topsy-turvey layer on the grandiose and strange cake tower of 2020.
Sponsored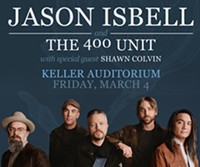 Jason Isbell has established himself as one of the most respected songwriters of his generation. Don't miss Jason Isbell and the 400 Unit, March 4th at Keller Auditorium!
But Portland is better primed for outdoor eating than other cities, in fact we like it! Embracing the spirit of fall weather, pumpkin beer, and outdoor dates, this week's Takeout Club is about two beloved food cart pods: Cartside Carts and the St. Johns Food Cart Pod!
Cartside Food Carts
Nestled off North Williams, just at that point in your bike commute when you wish you could stop for a snack / beer, the recently opened Cartside Food Carts have your cyclist metabolism hunger pangs covered.
Though it's a smaller pod, Cartside possesses all the linchpin staples of cart cuisine like Mexican burritos (Poblano Pepper), sushirritos (Let's Roll), Lebanese Mediterranean fare (Yaba Yabaa), and generously portioned, authentic Thai food (PP Thai).
But what I truly love about Cartside is the Korean comfort food cart Ko Sisters Seoul Food, where you can get a mozzarella fried corn dog on a stick and juicy fried fish cakes to enjoy with a beer from the Cartside Taphouse. Everything I've tried from Ko Sisters has been indulgently wonderful and a perfect energy bump, but if you're mealtime hungry, the Ko Sisters' flavorful beef bulgogi (available in a burrito, over rice, or in bibimbap) melts in your mouth and fills your belly for the road ahead.
Weird flex: Cartside offers above average portable bathrooms. They're like mini airplane restrooms inside. Though no one signs up to use an airplane restroom by choice, it's more than a cut above your standard Honey Bucket situation.
St. Johns Food Cart Pod
Further up north, in St. Johns, the
St. Johns Food Cart Pod
spreads out luxuriously over nearly a quarter of a city block, offering plenty of space for safe distancing, whether you're eating there or taking your meal to go. At busy times there's even a greeter at the entrance, reminding visitors to mask-up and follow the distancing directions on the pod's placard sign (you can also read them on
their website
).
With so much space available, the St. Johns pod has a wide variety of carts to choose from, but my two favorites are the wood-fired pizza spot Pizza Creature (You've gotta get that mushroom pizza! Plus, they make their own fancy ranch dressing.) and the all-vegetarian schwarma cart Falafel House. I ate many plates of schwarma fries before I realized I wasn't actually getting real chicken from Falafel House. They're that good!
Though the St. Johns carts have a Beer Porch within their cart ranks, your food cart takeout is also welcome at Lombard House, across the street. Anyone familiar with Lombard House—from the before times—will likely remember it as a crammed, friendly little house bar. That sounds like the antithesis of where you'd like to distance these days, but with the recent addition of large patio umbrellas to their homey backyard area, Lombard House is making a run at being open for the fall rainy season. There's also a welcome outdoor intimacy to Lombard House that makes it an ideal date spot for COVID-distanced cuffing season.