Here come
the rains
, Portland! As always, we shall endure this wet sky rage and don our damp rainwear with pride. It's still traditional to fret for the first week or so before settling into frizzy hair and the low ocean-like roar of rain pants. While your internal furnace shifts from cooling to hottening, treat yourself to some cheesy carbs.
Sponsored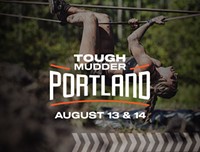 Lock in your summer adventure, Portland. Join us for world famous obstacles over a 5K or 10K distance.
Now that we're on the other side of daylight savings time—good afternoon, 4:30 pm sunset!—it is my personal self care routine to crawl inside a soft tortilla and stay there 'til Spring. I will still continue writing this column from inside said tortilla. They deliver in here, turns out!
Amelia's Mexican Food Cart
The main reason I bring up burritos is there's a new Mexican food cart in Pioneer Courthouse Square! Amelia's Mexican Food Cart is the latest expansion of Amelia Mondragon, and her son Josue, who also own and operate two other Amelia's restaurants in Hillsboro.
The Hillsboro locations are suburbs famous for their Loco Burrito, which is fabled to weigh in at around 3 lbs, but I'm sorry to report that much of the 3 lbs in my Loco Burrito was rice—a casual ratio would be 80 percent rice to 20 percent beans, onions, cilantro, cabbage, cheese, and sour cream. The good news is that my friend had a significantly better experience with Amelia's Burrito de Mole and gave the sweet chile sauce and enthusiastic thumbs up. Good mole sauce is not plentiful downtown so it's nice to have anther source.
It's also worth noting that Amelia's has a strong guacamole game. Though they boast no nachos on their food truck menu, the $8 guacamole comes beautifully plated over a generous bed of tortilla chips. "This is essentially nachos," I said to my colleague. "All guac, no filler." We devoured them at one of those socially distanced tables in the brightly colored circles currently dotting Pioneer Square.
There aren't a ton of menu items at Amelia's food truck, but that's an approach that I support because our food came out shockingly quick—in less than five minutes. They also don't use lard in their beans so most of the dishes can be made vegan or vegetarian.
Maya's Taqueria
If cheesy nachos—and a troubling amount of cheese at that—are a must-have, you don't have to go far from Pioneer Square to be satisfied. Maya's Taqueria—holding down the corner of SW 10th and SW Morrison for decades—provides a vast array of Mexican food options AND a full bar.
Whether you want Tex-mex style dishes like taco salad or Columbian pupusas, Maya's has it covered. The aforementioned nachos are dear to my heart for their multi-layered approach to cheese: It's throughout the nachos so that you aren't left with cold tortilla chip bones at the end. I'm also always down to mess around with one of their breakfast burritos (served all day!) and—during my academic years—risked being late to class on many a morning to do just that. I was never actually late, though, due to Maya's speedy service.
During the COVID shut down Maya's Taqueria kept chugging away, as their lunch counter set-up allowed them to easily shift to takeout and delivery. These days Maya's has built out their COVID safety protocols, encouraging customers to order ahead for fairly contactless pick-up. They've always had outdoor umbrella tables lining 10th, and they're still generally full of loyal Maya's clientele.
La Piñata Takos
We can't talk burritos downtown without mentioning my burrito cart steady La Piñata Takos. Situated in the SW 3rd food cart pod, Piñata has been my go-to lunch or late night weekend burrito cart for years, due to the delicious care they put into their food.
Though they're probably better regarded for their street tacos (rave reviews on the fish), I can't help but always return to their California burrito, which swaps out some rice for potatoes, and contains generous amounts of grilled veggies, sour cream, and avocado. When it comes to snacks, I know that their cheese quesadilla is just a tortilla with melted cheese, but the way they do it is somehow superior to every other place.
On burrito stability, Piñata is in a class of their own. Once wrapped, the contents of that burrito will stay put, with very little drip. I used to stand them up on my desk between bites just to show off. The family that runs Piñata is also happy to make items vegan or vegetarian on request. And don't forget to ask for their tangy and addictive salsa verde. One taste and you'll be back!