Here's
your daily roundup of all the latest local and national news
. (Like our coverage? Please consider
making a recurring contribution to the Mercury
to keep it comin'!)
Sponsored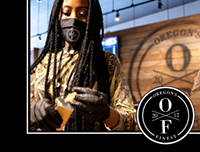 Oregon's Finest has great deals on cannabis gifts with curbside pickup & FREE delivery!
• Since you can literally care about nothing else right now, let's see how things stand with a certain PRESIDENTIAL ELECTION. After falsely declaring victory last night—an action absolutely NO ONE believed—Trump is beginning to show signs of soiling himself this afternoon after Joe Biden flipped the states of Wisconsin and Michigan bringing him to 253 electoral votes out of 270. As I write this, Biden also has a slight lead in Arizona, and Nevada—and claiming those two would get him to the electoral holy grail. Trump is responding the way he's done his entire life... by losing his goddamn mind on Twitter, and suing the people he's losing to. We'll see how successful he is.
Biden has won 100% of the states Sufjan Stevens wrote albums about!
— Jessica Kiang (@jessicakiang) November 4, 2020
• Despite his unpopularity with a large segment of Portlanders, Mayor Ted Wheeler has been officially reelected for another probably excruciating term, defeating Sarah Iannarone by six percentage points. Our Alex Zielinski has more.
Well, that makes one us. https://t.co/6Y3tGjJqmf
— Juan C. Chavez (@inafutureage) November 4, 2020
• Other big winners in last night's election in Portland and across the state: Mingus Mapps (who defeated Portland Commish Chloe Eudaly), Mary Nolan (in her Metro 5 race against Chris Smith), a new oversight board for the Portland Police, psychedelic mushrooms (for treatment purposes, okay??), universal preschool, the decriminalization of street drugs, the soon-to-be Secretary of State Shemia Fagan, and Oregon Dems in the legislature are holding on to their super majority. Last night's NOT big winner: Metro's transportation fund measure. For all the hot election night action, plus a heapin' helping of the sassy commentary you've come to love/endure, check out the Mercury's Election Night Live Blog!
• While last night's large protest march against police brutality, Trump, and Mayor Wheeler was largely peaceful, Gov. Kate Brown is extending her current emergency order until Friday so that Oregon State Troopers, Multnomah County Sheriff's Office, and a copious amount of CS tear gas will be in charge of policing demonstrations. Alex Zielinski has further details.
IN NATIONAL NEWS
• While things may be looking up for Biden, the Dems chances at taking back the Senate are getting slimmer by the minute. The ever-waffling Sen. Susan Collins of Maine has been reelected.
• There was some good news from last night (actually a lot of it!), such as the Democratic House is expected to hold its majority (including the four women of "the squad"), while Democrat Raphael Warnock is leading Georgia Senator Kelly Loeffler in a race that will go to a January runoff, Oregon decriminalized small amounts of heroin and cocaine, as four other states did the same with cannabis, and Delaware's Sarah McBride has been elected the first transgender state senator in American history, while Ritchie Torres is the country's first gay Afro Latino elected to Congress, and Cori Bush is Missouri's first Black congresswoman!
International election observers who watched Americans vote praised local election workers but said Trump's remarks had harmed trust in democratic institutions https://t.co/fr6rnFOJuX
— The Washington Post (@washingtonpost) November 4, 2020
• Unfortunately reelected Senate Majority Turtle Mitch McConnell has suddenly remembered that Americans desperately need a COVID stimulus package, and now that he's successfully crammed the Supreme Court with corrupt Trumpies, he'll get on that job right away, yes sir!
• Hello, this is some bullshit: "Nearly 7 percent of ballots in U.S. Postal Service sorting facilities on Tuesday were not processed on time for submission to election officials, according to data the agency filed Wednesday in federal court, potentially leaving tens of thousands of ballots caught in the mail system during an especially tight presidential race."
This is 60 million of your neighbors pic.twitter.com/Pg8KH6pgiZ
— Timothy Burke (@bubbaprog) November 4, 2020
• In good non-election related news: "Jeffrey Epstein's $22 million Palm Beach mansion will be demolished." (Okay, but were they too busy to burn it to the fucking ground?)
• The WEATHER REPORT: Heavier rain tomorrow with more balmy highs in the low 60s.
• And finally...

Who did this? #Elections2020 pic.twitter.com/0g8WRJERjb
— Apuje Kalu (@Apuje) November 4, 2020