Here's
your daily roundup of all the latest local and national news
. (Like our coverage? Please consider
making a recurring contribution to the Mercury
to keep it comin'!)
Sponsored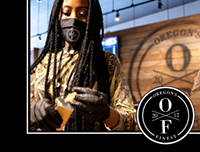 Oregon's Finest has great deals on cannabis gifts with curbside pickup & FREE delivery!
• Before we get to local stuff, let's check in on a subject that has you gnawing your fingers off: THE PRESIDENTIAL ELECTION. As of this hour, the electoral vote remains largely the same as yesterday (according to major outlets): Biden has 253 electoral votes to Trump's 214. However as votes continue to be counted in the remaining states, Biden's lead continues to grow thanks to late-breaking absentee and provisional ballots. Biden leads by one point in Nevada, two in Arizona, while Trump has a minuscule .5 lead in Georgia, a two point lead in North Carolina, and a quickly dwindling two point lead in Pennsylvania (where "several hundred thousand" votes are still left to be counted). We're expecting more updates later today. Here's a great graphic from the BBC that clearly shows the pathways both candidates need to snag the presidency.

• Last night about 150 black-clad protesters broke off from a much larger group of "Count Every Vote" and social justice demonstrators to move into downtown and break windows in various businesses and a church. The Gov. Brown-appointed (and hilariously named) "United Command"—made up of state troopers, Multco Sheriff's officers, Portland Police, and later the National Guard—moved in with (as usual!) an excessive and unnecessary amount of violence, and made several arrests. Hot shit contributor
Suzette Smith was on the ground and has more here.
• After delaying the vote for a week, Portland City Council voted against Commissioner Jo Ann Hardesty's proposal to cut an additional $18 million from the bloated Portland Police budget. Mayor Ted Wheeler, Commissioner Amanda Fritz, and new Commissioner Dan Ryan (who had called for additional cuts while campaigning) rejected it.
• According to post-election maps put together by the Oregonian, votes in the mayoral race in favor of Ted Wheeler came primarily from the wealthy westside, while challenger Sarah Iannarone's major support came from North and Southeast Portlanders. MAKE OF THAT WHAT YOU WILL.
• Today marked a grim new record for Oregon: The OHA reported a sobering 805 new positive COVID cases today (far exceeding the previous record of 600 on a single day). Hospitalizations are also at an all-time high with 204 being reported. These numbers track with national trends: Yesterday was the first day that over 100,000 Americans tested positive for the virus.
Oregon shattered its daily coronavirus record with 805 new cases.

Also records:

* Average daily case count now at 578, up 77% from two weeks ago
* Active hospitalization now at 204
* Test positivity rate since yesterday was 12.5%

Story here:https://t.co/FmoLXbCYhQ
— Brad Schmidt (@_Brad_Schmidt) November 5, 2020
• Is this post-election craziness driving you nutz? Refresh your weary mind with Jenni Moore's terrific "Refresh Playlist" column, featuring lots of new local and national music designed to put your anxious brain at ease.
IN MORE NATIONAL NEWS
• Not that it fucking matters (though it absolutely should), but Biden currently leads Trump in the POPULAR VOTE by 3.8 million votes nationwide. SMOTHER THE ELECTORAL COLLEGE IN ITS SLEEP.
Joe Biden is leading President Trump by 3.8 million votes nationwide as of late Thursday afternoon. It's the fourth consecutive election that a Democrat has won the popular vote, and the seventh time in the last eight presidential elections. https://t.co/0yvF3Lj4mf
— The New York Times (@nytimes) November 5, 2020
• To the surprise of no one, Trump gave a speech today filled with absolute, unequivocal LIES about the election process. As usual, ignore this blithering fool and move on with your lives.
• As his attempt to gain electoral votes diminishes, Trump is ramping up his bullshit lawsuits that are conversely asking to stop vote counting in one state and start recounting in another. While judges laughed the previous two requests out of court, Trump did gain one small legal victory in Pennsylvania where a judge allowed Trump observers to stand closer to the vote-counting action.
• Meanwhile the race for control over the Senate is currently deadlocked, 48-48, with two contests in Georgia as well as races in Alaska and North Carolina that remain undecided. We may not know who will have the majority until after a runoff in January.
• Dozens of far-right wackos (some of whom were carrying weapons, of course) tried to force their way into a Phoenix, Arizona vote-counting center to accomplish... what exactly? I couldn't tell you. But they were eventually shown the door.
💡News you can use💡

When someone you love believes in a conspiracy theory, is it possible to change their mind? @OPBTOL talked to @RachelEMoran of @uwcip about how to approach conversations with people who believe in things that are demonstrably untrue.https://t.co/KNVpTzKkrx
— Tess Novotny (@tess_novotny) November 5, 2020
• In "voting against one's own self-interest" news: "Counties with worst virus surges overwhelmingly voted Trump."
• Oh, and if you're in the mood for even more infuriating headlines... well, here ya go: "USPS processed 150,000 ballots after Election Day, jeopardizing thousands of votes."
• Starting Fri Nov 6 and running through Sat Nov 28: The brand new "HUMP! Greatest Hits, Vol. 2" featuring the sexiest short flicks from the past 15 years of festivals! (Look, you NEED this. GET THOSE TIX NOW!)
• The WEATHER REPORT: Rain in the morning turns to cloudy skies with a high of 52.
• And finally... here is the best goddamn advice you'll hear all day/week/year/possibly lifetime.

I wanted to reshare this video to encourage everyone who is anxious this morning—breathe! pic.twitter.com/5JEzkw99M4
— Jason Wilson (@mrjasonowilson) November 4, 2020