We need your help. The economic fallout of the coronavirus crisis is threatening our ability to keep producing the quality reporting you've come to love. If you're able, please consider making a monthly contribution to the Mercury.
GOOD MORNING, PORTLAND!
Though we did end as friends, given the chance
we could love again.
LET'S GO TO PRESS.
Sponsored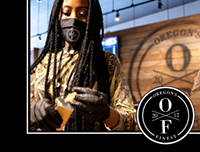 Oregon's Finest has great deals on cannabis gifts with curbside pickup & FREE delivery!
• (*Blinks eyes open*) DO WE HAVE A NEW PRESIDENT YET? Well, not yet... as the electoral count still stands at Biden's 253 to Trump's 214—but there were some significant developments last night. While we slept, Biden took a slim lead in Pennsylvania (which if he wins will put him over the top) and Georgia (a shocking turn of events for which we can thank the brilliant work of Stacey Abrams and her Fair Fight organization... donate here!). Around 95 percent of the vote is in for Pennsylvania, with the remaining votes coming from left-leaning areas. Meanwhile in Georgia, Biden is up a scant 1,098 votes with just over 8,000 ballots left to count (you can def expect a recount there). Biden still holds the lead in Arizona and Nevada.
Donald Trump is projected to win the state of denial he is currently in
— Mohanad Elshieky (@MohanadElshieky) November 6, 2020
IN LOCAL NEWS
• After delaying the vote for a week, Portland City Council voted against Commissioner Jo Ann Hardesty's proposal to cut an additional $18 million from the bloated Portland Police budget. Mayor Ted Wheeler, Commissioner Amanda Fritz, and new Commissioner Dan Ryan (who had called for additional cuts while campaigning) rejected it. Our Alex Zielinski has more.
• In reaction to the vote, a small group of protesters marched to new Commissioner Dan Ryan's house last night to point out his seemingly contradictory stance, before causing minor property damage and being chased away by cops.
• Meanwhile, after Portland overwhelmingly voted to create a new independent police oversight board, the Portland Police Union is pitching an expected hissy-fit and filed a grievance with the city against it, citing that it violates their bargaining agreements (which they care much more about than ending widespread police corruption or preserving the will of the people).
• Yesterday marked a grim new record for Oregon: The OHA reported a sobering 805 new positive COVID cases today (far exceeding the previous record of 600 on a single day). Hospitalizations are also at an all-time high with 204 being reported. These numbers track with national trends: Yesterday was the first day that over 100,000 Americans tested positive for the virus.
IN MORE NATIONAL NEWS
Stacy Abrams channeled the spirits of Fannie Lou Hamer, Ida B Wells and
Mittie Maude Lena Gordon.

Let's pay tribute to historical legacy of Black Women's leadership in time of crisis. https://t.co/RzgOvy39ua
— Jamaal Bowman (@JamaalBowmanNY) November 6, 2020
• To the surprise of no one, Trump gave a speech yesterday filled with absolute, unequivocal LIES about the election process. As usual, it's best to ignore this blithering loser and move on with your lives.
• Not sure why they haven't been doing this all along, but three major networks (ABC, CBS, and NBC) abruptly cut away from the President's lie-filled speech.
• Some Republicans are pushing back against Trump's attempts to sow distrust in the election—but what do you expect me to do? Give them a fucking cookie? They've propped up and abetted Trump for years, so they can all go to hell, too.
pic.twitter.com/ryyULmKkNB
— shauna (@goldengateblond) November 6, 2020
• If you love to hear about Trump suffering, check out this article which describes the emotional rollercoaster ride the president has been on from election day to now. HIS PAIN. IS. DELICIOUS.
• In other "sore loser" news: "Fox News instructs anchors not to call Biden 'President-elect'."
And here it is, your Moment of Zen pic.twitter.com/0Dwd32AAs5
— The Daily Show (@TheDailyShow) November 6, 2020
• In "Headlines You Love to Read" news: "If Trump does not concede, Biden campaign says U.S. government is 'perfectly capable of escorting trespassers out of the White House.'"
• Meanwhile the race for control over the Senate is currently deadlocked, 48-48, with two contests in Georgia as well as races in Alaska and North Carolina that remain undecided. We may not know who will have the majority until after the January runoffs.
• What's this? An actually uplifting headline? I LOVE IT!: "Transgender representation to nearly double in state legislatures."
Al Roker, the longtime co-host and weatherman of the "Today" show, has prostate cancer, he revealed on Friday. He will be briefly leaving the program for treatment. https://t.co/oUogqvDUGX
— The New York Times (@nytimes) November 6, 2020
• Starting Fri Nov 6 and running through Sat Nov 28: The brand new "HUMP! Greatest Hits, Vol. 2" featuring the sexiest short flicks from the past 15 years of festivals! (Look, you NEED this. GET THOSE TIX NOW!)
• Now let's whip our necks upward toward the WEATHER: Rain this morning will turn to cloudy skies this afternoon with a high of 52.
• And finally... I can attest to the accuracy of this.

CNN the last 24 hours pic.twitter.com/a0XJO7de0w
— Michael Kosta (@michaelkosta) November 5, 2020