Here's your daily roundup of all the latest local and national news. (Like our coverage? Please consider making a recurring contribution to the Mercury to keep it comin'!)
• For those who haven't been refreshing Twitter every 27 seconds, here's the latest PRESIDENTIAL ELECTION RESULTS! As of this hour, Joe Biden still maintains small leads over the lie-spewing Trump in Pennsylvania (by 17,000), Georgia (by 5,000), Nevada (22,000), and Arizona (38,000). If Biden wins Pennsylvania, he takes it all—so why haven't the major outlets called it yet? Nerdy dreamboat Steve "Sleeves" Kornacki explains why there are some "complexities" within the state's provisional votes. Biden and probable Veep-to-be Kamal Harris are scheduled to give a national address tonight!
Sponsored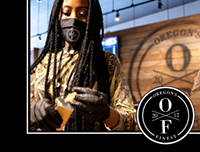 Oregon's Finest has great deals on cannabis gifts with curbside pickup & FREE delivery!
I'm calling it... nobody is beating this 🇺🇸

(H/t: @JohnHPiette) pic.twitter.com/msdiO8slu2

— Andrew Claudio (@AndrewJClaudio_) November 6, 2020
IN LOCAL NEWS
• Oregon's COVID-19 outbreak is blowing up right now, as a record-breaking 805 new positive cases were reported yesterday, and 770 new cases today. Gov. Brown gave a press conference today to address the surge, and announced there will be a two-week "pause" on social activities for five counties, including Multnomah County. What does this "pause" mean for you? Our Blair Stenvick has all the details.
"While hospitals have been managing typical high census throughout the fall, the recent increases in COVID plus staffing shortages have created a more pressing picture in some areas; Last night, hospitals in the Portland metro reported they are at or over 90% of ICU capacity."

— OR Health Authority (@OHAOregon) November 6, 2020
• In reaction to the city council rejecting a completely reasonable $18 million cut to the Portland Police budget, a small group of protesters marched to new Commissioner Dan Ryan's house last night to point out that his "no" vote directly contradicted his pre-election promise to fight for "substantial" cuts to the cops' budget. During the protest, demonstrators caused minor property damage (broke a flower pot and some glass, lit some flares, and flashed lights at the house) before being chased away by cops. I get it... not cool. However, Mayor Ted Wheeler was quick to lose his goddamn mind over the actions of these protesters, equating very minor property damage to "violence," and adding that the perpetrators would be "found, investigated and prosecuted to the fullest extent of the law." MAKE NO MISTAKE: The mayor has not once reacted with such vehemence to the hundreds of protesters and dozens of journalists who have been beaten, shot at, knocked around, and gassed by his truly violent police force. But god forbid a flower pot is broken.
• Related: Gov. Kate Brown has extended her executive order to keep the "Unified Command"—state troopers, MultCo Sheriff's, and Portland Police (with a special guest appearance from the National Guard)—in charge of Portland protests through Sunday, despite their violent, outsized reaction on Wednesday night.
• Meanwhile, after Portland overwhelmingly voted to create a new independent police oversight board, the Portland Police Union is pitching an expected hissy-fit and filed a grievance with the city against it, citing that it violates their bargaining agreements (which they care much more about than ending widespread police corruption or preserving the will of the people).
• Don't miss this illuminating interview from our Alex Zielinski with former mayoral candidate Teressa Raiford who talks about the election results, "spoilers," the write-in campaign for her leadership, and what it says about the Portland establishment.
• You may have missed it due to (swings arms wildly) EVERYTHING, but Oregon made history this election cycle by passing Measure 110, which decriminalizes the possession of small amounts of hard drugs. Check out this emotional, thoughtful guest editorial from Morgan Godvin, which shows why passing this measure was such a smart, and humane choice.

An opinion piece from @MorganGodvin about the passage of Oregon Ballot Measure 110: "I used to be addicted to heroin. Oregon decriminalizing drug possession is a historic victory for human rights."https://t.co/7EiY6uRgbC

— Portland Mercury 🗞 (@portlandmercury) November 6, 2020
IN MORE NATIONAL NEWS
• While we're all super occupied with the electoral college, don't forget how we should be deciding this election: THE POPULAR VOTE, which Biden leads with a whopping 4 million votes (so far).
• In a typically panicky move, Pennsylvania Republicans have asked the Supreme Court to order the state's election officials to separate the ballots that arrived after November 3 from the other votes... WHICH THEY ALREADY DAMN DONE! (My dudes, you're gonna wear out the Supremes before they get to corrupt the actual election!)
[antifa headquarters]

the plan is we do enough election fraud to put the aging moderate we don't love in the white house, but not so much we win the senate and can make actual policy changes

— nate of the living dead (@MNateShyamalan) November 6, 2020
• So is Trump taking his cry-baby loser case to the Supreme Court even an option? As this analysis shows, he can certainly try, but it will be a very tall order to accomplish, even with a gaggle of love-struck Supremes.
• You hate to see it: "Steve Bannon suspended from Twitter permanently after calling for violence against Dr. Fauci, FBI director."
• In "Headlines You Love to Read" news: "If Trump does not concede, Biden campaign says U.S. government is 'perfectly capable of escorting trespassers out of the White House.'"
Ted Cruz on Hannity looks like they sent a camera down to the Titanic and found a body. pic.twitter.com/3mRVl3NLsd

— Daniel Kibblesmith (@kibblesmith) November 6, 2020
• What's this? An actually uplifting headline? I LOVE IT!: "Transgender representation to nearly double in state legislatures."
• Starting Fri Nov 6 (that's TODAY!) and running through Sat Nov 28: The brand new "HUMP! Greatest Hits, Vol. 2" featuring the sexiest short flicks from the past 15 years of festivals! (Look, you NEED this. GET THOSE TIX NOW!)
• The WEATHER REPORT: A few afternoon showers on Saturday and a cloudy Sunday with highs around 50.
• And finally... if you're an MSNBC fan, you can relate to this hilarious Leslie Jones diatribe.

Ok what is this fuckery WHERE IS STEVE?? Lol I don't trust this dude!! pic.twitter.com/EQm1kl1Hbh

— Leslie Jones 🦋 (@Lesdoggg) November 6, 2020