Here's your daily roundup of all the latest local and national news. (Like our coverage? Please consider making a recurring contribution to the Mercury to keep it comin'!)
• Despite the party line that local cops and certain city officials may be trying to sell you, there are many factions associated with the nightly protests that have occurred in Portland since late May. One such faction, who purportedly align themselves with the racial justice crowd, but also have very strong anti-government views, broke windows and defaced the Multnomah County Democrats building last night with the words "Shame" and "No Presidents."
Sponsored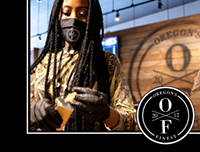 Oregon's Finest has great deals on cannabis gifts with curbside pickup & FREE delivery!
Demonstrators break windows, tag walls at Multnomah County Democrats building https://t.co/YSVa0m8Rdn

— KGW News (@KGWNews) November 9, 2020
• Activist cameron whitten wrote a very emotional and smart guest editorial for the Mercury about his own tumultuous experiences as a Black person in Oregon, and how people of color are in desperate need of mental relief and joy—while also offering suggestions of services that can possibly help.
• And if you remain unconvinced that some Oregonians are still actively working against the happiness and safety of people of color, there's this story: "Logging company seeks restraining order to block state fund to aid Black Oregonians."
• Apparently there was a huge street racing event that took place in various Portland neighborhoods last night, where hundreds of participants blocked streets and engaged in racing and stunts. I do not approve and, at the same time, very hurt that I wasn't invited.
• Oregon elections director Steve Trout has unhappily resigned from his post, claiming that the division is not getting the technical or monetary support it needs.
• It was another record breaking day for Oregon's COVID pandemic as active hospitalizations skyrocketed thanks to the recent explosion of cases. (And in case you missed it during all the election hub-bub, Gov. Kate Brown is requiring citizens in (now) NINE counties—including Multnomah—to put a two-week "pause" on socializing in order to slow down the super-surge of positive COVID cases.)
#BREAKING @OregonGovBrown has placed 4 additional counties on a "two-week pause": Baker, Clackamas, Union, and Washington Counties. Those counties join Jackson, Malheur, Marion, Multnomah, and Umatilla; all will be put on "pause" beginning Wednesday. @fox12oregon https://t.co/y6Q42ZWntQ

— Hailey Leeming (@producerhailey) November 9, 2020
IN NATIONAL NEWS
• While it's far too late to save the lives of the thousands of coronavirus victims who died due to Trump's inaction, Biden has proclaimed the pandemic as his number one priority, and to prove it, his new transitional COVID-19 task force is impressively filled with actual doctors and infectious disease experts. (Are you sure they can't just start right away?)
Joe Biden's office has released plans his administration intends to implement in the beginning of his term. One is a national mask mandate "by working with governors and mayors."

Most states have some type of mask mandate, but some have no statewide rule. https://t.co/6yap1wSWzU

— CNN (@CNN) November 9, 2020
• Speaking of which, Pfizer's experimental COVID-19 vaccine has been found to be more than 90 percent effective—with absolutely NO THANKS to the Trump administration who are trying to claim credit, even though Pfizer rejected their help because they didn't want their efforts politicized.
⚠️ Whatever you do today, please do NOT call the Trump Voter Fraud Hotline at 1-888-630-1776. I repeat, do NOT call 1-888-630-1776. Thousands of people are prank calling the hotline and leaving silly messages or just hanging up. They're driving those poor Trumpsters crazy!!

— Jon Cooper 🇺🇸 (@joncoopertweets) November 9, 2020
• Also, Biden's already fine-tuning a suite of executive orders to reverse the Trump Administration's worst decisions—for example rejoining the Paris climate accords and the World Health Organization, repealing the Muslim travel ban, and reinstating the program that would allow children (or "DREAMers") who were brought to the United States illegally as children, to remain in the country.
• The long love affair between Fox News and Trump has soured over the past week, and got a little worse today when the network cut away from Press Secretary Kayleigh McEnany after she began spouting her usual brand of ridiculous lies.
Fox News just cut away from @PressSec, saying the network could not in good conscience continue to air her false claims, for which she has provided no supporting evidence.

— Ashley Parker (@AshleyRParker) November 9, 2020
• As promised, and in a Tweet (of course, eye roll), President Trump has fired Defense Secretary Mark Esper for daring to contradict his idea to send the military to quell protests across the nation.
• Though Biden has expressed an interest in reaching across the aisle to Republicans, they and Senate Majority Turtle Mitch McConnell are refusing to acknowledge Trump's defeat and are encouraging the president to continue spreading lies about voter fraud, and launching unwinnable court cases like this one. For hopefully the last time: REPUBLICANS ARE RUINED, and there's no fixing them. So stop wasting your time, and throw any feelings of "forgiveness" into the nearest medical waste dumpster.
• While the story was nearly lost due to Biden's election announcement on Saturday, LET US NEVER FORGET Rudy Giuliani's press conference debacle that was mistakenly held at Philadelphia's Four Seasons Total Landscaping (conveniently located near an adult book shop and creamatorium) instead of the Four Seasons hotel. This story is *CHEF'S KISS*!
For your Zoom call this week. pic.twitter.com/O0VpBPhc3e

— Jill Blake (@biscuitkitten) November 9, 2020
"Good afternoon, Federation dignitaries. I'd like to welcome you all to the Enterprise... Rent-A-Car parking lot."

*whispers under breath* Damn you, Ensign Crusher. Damn you.* pic.twitter.com/07VFOyUnZG

— Jay Stobie (@StobiesGalaxy) November 9, 2020
• Remember when we reported about there being hundreds of migrant children who may not be reunited with their parents after being separated by the Trump administration? There are more of these children than we thought.
• Today in "OH WELL": Housing and Urban Development Secretary Ben Carson has tested positive for COVID-19, after appearing maskless at several White House events and rallies. OH WELL!
• ICYMI: The beloved, longtime host of Jeopardy, Alex Trebek, has died at the age of 80 following his long bout with cancer.
• Running now through Sat Nov 28: The brand new "HUMP! Greatest Hits, Vol. 2" featuring the sexiest short flicks from the past 15 years of festivals! (Look, you NEED this. GET THOSE TIX NOW!)
• The results are in, and the people have spoken: YOU LOVE GOOD AFTERNOON, NEWS! Never miss a single informative, entertaining post by subscribing HERE.
• The WEATHER REPORT: Looks like a rainy week ahead with showers starting tomorrow and a high of 49.
• And finally, don't miss this very detailed (and jaunty) tune that absolutely obliterates Donald Trump, the LOSER.

"Bye Bye Donny"

Perfect.

I love the Aussies...pic.twitter.com/g37SwRMZ1o

— Rex Chapman🏇🏼 (@RexChapman) November 9, 2020