We made it through the election!
We're going to live!
And I guess if we're going to live, we might want to start eating like it—not just carb load and
sleep under a burrito
for a thousand years like Merlin. Keep celebrating this hopeful electoral turn by putting something heathy in your body! Here are a couple newish, interesting spots to help you do just that.
Sponsored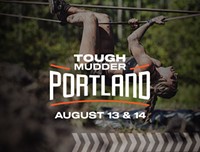 Lock in your summer adventure, Portland. Join us for world famous obstacles over a 5K or 10K distance.
Carioca Bowls
As a person that both worked in a food co-op and lived on a yoga street, I've eaten my fair share of açaí berry bowls.
Carioca Bowls
, which opened their first shop on NE Alberta, before expanding to a second spot on NW 21st last year, has always delivered on their customizable bowls (fruit, granola, you name it) for almost any dietary restriction or appetite. But I always want more savory options from them so I was happy to hear they recently brought back their Samba Bowl, which arranges steamed kale and cabbage atop a bed of black beans, rice, zucchini, poblano peppers, onions, and garlic.
It doesn't sound like a lot—maybe even like something you could make at home—but though a rice and bean bowl may be super cheap elsewhere, the $11 Samba is thoughtfully spiced (not hot, just flavorful) and treats your body real nice. Plus, I'm wild for Carioca's little cheese breads which pair beautifully with the bowl—provided that the whole point of eating at Carioca wasn't to eat gluten free.
I must additionally praise Carioca's choice of Marie Sharp Pineapple Habanero hot sauce, which accompanies the Samba bowl upon request. The bright-tasting, but powerful sauce isn't too fruity and definitely made me breathe like a winded uncle. I like to gasp with my food, okay?
Carioca Bowl's NW location feels a little fast food-y inside, but it also seems like a place I could bring a kid and not worry too much about their natural urge to spill and destroy. The NW spot is also a few steps way from the recently finished NW 21st Place—an open-air pedestrian street, lined with tables and benches that is so new and clean-looking that it actually makes me a little uncomfortable. (Could some children mess it up and make it feel more lived-in? Thanks in advance.)
Seoul Paulo
The first time I visited Nick Soh's
Seoul Paulo
food cart, he greeted me with an "I'll explain everything in a second," as he finished up another order. It was curious that food would require an explanation, but while Seoul Paulo has some signage outlining the anatomy of the cart's Tapioca Flats, Soh is practiced in guiding new faces through his menu. "This food is something where you probably need to know what it is before you go 'Oh, I want that,'" he said.
Just celebrating his first year in business—a year spent stuck behind a wall of some recently cleared construction on SW Oak at SW Fifth—Soh is also still in the process of adding to his menu, but the Tapioca Flats are a staple. They're like a thin crepe pancake, with seasoned meats and vegetables inside, that comes out looking like a stuffed quesadilla. The chewy tapioca gives the flat its unique texture and also makes them naturally gluten free.
"I explain it like it's a Korean Brazilian tapioca wrap," he said. "But there are clear tapioca wraps people use to make salad rolls." He doesn't want people to think he's making that.
Soh started experimenting with cooking street food when he lived in San Jose, working a day job at a Silicon Valley company. He started selling Korean and Mexican fusion tamales in the bar areas of the downtown. "I liked interacting with people and seeing what was going on," he said. "It felt more fulfilling than working with a computer and a spreadsheet."
While traveling in Columbia and Brazil, he found that tapioca was an interesting alternative to tamales. And since it didn't involve lard, it was really easy to make his Korean fusion creations vegan as well. Soh isn't vegan, but has always appreciated vegan cuisine for both its health and environmental benefits.
On my first trip to the cart I had a Bulgogi Sala Tapioca Flat with seared scallions, onions, and ginger. I asked for a lot of spice and, while it didn't hit me right away, each bite carried a satisfying residual heat. I was surprised by how filling it was. "When I eat a Tapioca Flat I can feed my body starting to burn it almost immediately, where with wheat or rice or corn you might feel tired or heavy," Soh explained. The next time I visited, he made a variation of the pasta salad he's been offering which lays a spicy glazed tofu and vegetables on a bed of lettuce and herbs—I chose to add rice cakes instead of wheat pasta.
It's apparent that Soh is still in an experimentation phase with Seoul Paulo, but people seem to like his experiments, even if they're not sure what to call their orders. Customers kept walking up to his cart and asking for "that thing I had yesterday." They'd describe it and Soh would try to remember. Maybe the names aren't a hundred percent worked out, but Seoul Paulo seems like a dynamite spot for people trying to avoid gluten or just eat something healthy for lunch.