We need your help. The economic fallout of the coronavirus crisis is threatening our ability to keep producing the quality reporting you've come to love. If you're able, please consider making a monthly contribution to the Mercury.
GOOD MORNING, PORTLAND! I know them other guys, they been talking 'bout the way I do what I do. They heard I was good, they wanna see if it's true. LET'S GO TO PRESS.
Sponsored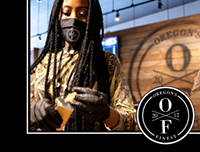 Oregon's Finest has great deals on cannabis gifts with curbside pickup & FREE delivery!
• Reason #1,567,932 for why COPS CANNOT BE TRUSTED: Kevin Peterson Jr., the Black man who was shot and killed by Clark County officers recently, is said to have pulled a gun but did not fire at authorities first, according to investigators. Deputies initially claimed that he did shoot first, and we're now learning there are other suspicious discrepancies in their report as well.
The Clark County sheriff told me & a room full of reporters that Kevin Peterson Jr. opened fire on deputies.

Cops repeated the claim in court records last week.

Now, 12 days after killing him, they say Peterson never fired a gun.

via @noellecrombie https://t.co/OhQaA7sRDf

— Shane D. Kavanaugh (@shanedkavanaugh) November 11, 2020
• REMINDER: Today all three counties in the Portland metro area are entering into a two-week "pause" on social gatherings to help slow the rapid spread of COVID-19. Read more about the new requirements here.
• Oregon coronavirus rates remained at a dangerous level yesterday with 771 new, positive cases, while active hospitalizations also climbed to a new high of 285. Three additional deaths were reported.
Multnomah County, like many parts of Oregon, has seen a dramatic rise in #COVID19 cases. We have to act now to turn the tide.

So for the next two weeks, we need to pause and double down on the measures we know help slow the spread of the virus. (1/3) https://t.co/hq8R94Fc6s

— Deborah Kafoury (@dkafoury) November 11, 2020
• Yesterday a group of roughly 50 activists demonstrated at Laurelhurst Park to stop expected sweeps of a homeless camp by Portland Police following complaints from neighbors. Activists said the decision to force people to relocate amid a global pandemic and during Portland's coldest months, "is cruel and inhumane." Our Alex Zielinski has more.
• AAA Oregon/Idaho has cut ties with an Oregon tow truck driver who dickishly refused to help a customer because they had a "Biden for President" sticker on their car.
• Tom Metzger, a white supremacist found guilty of inciting the murder of Ethiopian immigrant Mulugeta Seraw in Portland in 1988, has died at the age of 88.
IN NATIONAL NEWS
• A stunning 10 million Americans contracted the coronavirus since the beginning of November, and hospitals are reaching a crisis point. So what is Trump doing to slow down the virus? ABSOLUTELY NOTHING—unless you count spreading lies about voter fraud in a desperate attempt to win an election he's already clearly lost, and replacing qualified Pentagon officials with sniveling Trump loyalists.
• The actual president-elect Joe Biden rightly called these baseless lies and the Republicans who are helping spread them, "an embarrassment." His legal team is considering challenges to force Trump to allow the transition to officially begin.
Georgia will conduct a hand recount of the presidential race, a move requested by the Trump campaign. Officials said it's unlikely to erase Joe Biden's slim lead in the state. https://t.co/7eA0gHaJY9

— The New York Times (@nytimes) November 11, 2020
• Related: A Pennsylvania postal worker who pushed the fake claim that he and others had been instructed to "backdate" ballots mailed after election day has admitted that he made it all up and therefore is a GODDAMN LIAR, just like the rest of 'em.
• And just so we're all on the same page here, according to election officials in every single state, there has been exactly ZERO evidence of any voter fraud.
Rarely does what did not happen — the presence of an absence — lead the news like this, but... appropriate. pic.twitter.com/vFgTwyUv3A

— Jay Rosen (@jayrosen_nyu) November 11, 2020
• With Republican Senate wins in both Alaska and North Carolina, all eyes are now focused on Georgia, whose two runoffs could make it or break it for Democrats. (By the way, if you didn't notice, the reason so many Republicans are backing Trump in his voter fraud lies is because they absolutely cannot afford to lose those Georgia races.)
• A NYC man has been arrested after threatening to kill Senate minority leader Chuck Schumer, as well as "anyone who claims to be a Democrat." Busy guy!
Britney Spears loses court bid to remove father's control over estate.https://t.co/xluv6UXZbO

— BBC News Entertainment (@BBCNewsEnts) November 11, 2020
• Running now through Sat Nov 28: The brand new "HUMP! Greatest Hits, Vol. 2" featuring the sexiest short flicks from the past 15 years of festivals! (Look, you NEED this. GET THOSE TIX NOW!)
• The results are in, and the people have spoken: YOU LOVE GOOD AFTERNOON, NEWS! Never miss a single informative, entertaining post by subscribing HERE.
• Now let's screw our eyes up to the skies for the WEATHER: Sunbreaks and a few showers today with a high of 48.
• And finally, there are many reasons to honor the memory of Alex Trebek... but I prefer this one.

Alex Trebeck shooting promos for the phone version of Jeopardy and cussing like a sailor is just what I needed today...pic.twitter.com/6CalbTJPhy

— Rex Chapman🏇🏼 (@RexChapman) November 11, 2020