Here's your daily roundup of all the latest local and national news. (Like our coverage? Please consider making a recurring contribution to the Mercury to keep it comin'!)
• First and foremost: HAPPY WHALE EXPLODING DAY ANNIVERSARY. Here's a great recap of that iconic day in Oregon history where the plan to get rid of a rotting whale carcass went horribly (and hilariously) wrong.
Sponsored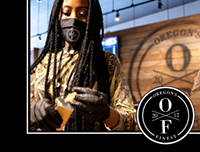 Oregon's Finest has great deals on cannabis gifts with curbside pickup & FREE delivery!
Tonya Harding and the exploding whale were both born on this day in Oregon and both left behind a trail of debris that would captivate people for decades to come https://t.co/OPtPjSjypc pic.twitter.com/CDrGQwSR00

— The Oregonian (@Oregonian) November 12, 2020
• Your daily, horrific COVID-19 update: Oregon has broken yet another daily record for new cornavirus infections with a stunning 1,122 cases reported since yesterday—easily topping the previous record of 988 hit last Saturday.
1,122 covid cases in Oregon reported in a single day — 2% of the state's total since this all began.

Another record. The third in a week.

The pandemic is raging.

— Rob Davis (@robwdavis) November 12, 2020
• Amid another record-breaking surge in new COVID-19 cases, Oregon's hospitals are starting to cancel elective surgeries in order to free up more beds for coronavirus patients.
• Have you received text messages falsely claiming that thousands of ballots in Multnomah County have not been counted? IGNORE THAT REPUBLICAN-CONCOCTED BULLSHIT. The Multnomah County Elections Office explains it all for you here.
• AHEM, AHEM, PORTLAND POLICE, IF YOU'RE LISTENING: The University of Oregon is reducing the number of armed security guards on its campus and shifting "several of its armed officer positions into unarmed community service officer positions." They also plan on implementing programs to counteract racial bias and police brutality.
• Companies who have been pumping greenhouse gasses into Portland's air may find themselves paying a new city tax designed to curb climate change and battle environmental injustice.
IN NATIONAL NEWS
• States are kicking their vaccination planning into high gear as a potential COVID-19 vaccine could be ready for initial roll-out as early as next month. As you can guess, this is a MONUMENTAL undertaking, but according to Dr. Anthony Fauci, the majority of Americans could be vaccinated by "April, May, or June."
On the same day that Pfizer announced early good news about its coronavirus vaccine, its CEO sold $5.6 million worth of company stock as its value skyrocketed.

That has raised serious questions about what he knew and when.
https://t.co/JOTeFAngAn

— NPR (@NPR) November 12, 2020
• Meanwhile, in big cities across the nation, school districts are giving up on in-person classes thanks to the horrific spike in COVID cases, and new, tighter restrictions on restaurants, gyms, and more could be on the way.
• Trump campaign adviser/criminal crony Corey Lewandowski has (YOU HATE TO HEAR IT) tested positive for COVID-19 after attending the same White House election night petri dish party that has infected so many others in the administration.
• Trump's increasingly desperate lies about voter fraud are being exposed for what they are left and right, with more Republicans finally coming around to the idea that this type of autocratic shenanigans is dangerous. Meanwhile Biden's transition is going on with or without Trump's help, and the true president-elect has already chosen his Chief of Staff: longtime advisor Ron Klain, who has decades of experience, and helped coordinate the national response to the Ebola outbreak of 2014. IMAGINE! A chief of staff who isn't a slobbering, corrupt toady!
President Trump and his allies have filed nearly 20 lawsuits seeking to undermine election results in the past eight days. According to several judges and experts, these suits are unlikely to affect — let alone to overturn — the outcome of the election. https://t.co/gJvO2Ijvru

— The New York Times (@nytimes) November 12, 2020
• In "par for the course" news: "Cracker Barrel apologizes for noose-shaped decoration inside Connecticut store."
• In September, it was reported that Immigration Customs and Enforcement (ICE) was performing forced sterilizations on imprisoned immigrants. Now, ICE appears to be rushing to deport people who witnessed these sterilizations. "It's as if ICE is trying to clear house before the new administration comes in by deporting as many of these witnesses as soon as possible," a law student working with the immigrants told Buzzfeed News.
• Here's something to keep in your peripheral vision: Boats in US waters in the Northern Pacific are getting repeatedly harassed by Russian warships, while Putin's bombers have been flying within 30 miles of Alaska's shores.
• Here's your GOOD NEWS for the day: "Over 220 LGBTQ candidates celebrate election victories."
• Running now through Sat Nov 28: The brand new "HUMP! Greatest Hits, Vol. 2" featuring the sexiest short flicks from the past 15 years of festivals! (Look, you NEED this. GET THOSE TIX NOW!)
• This coming Wednesday, November 18, it's the latest I, ANONYMOUS SHOW featuring the wildest anonymous confessions and rants, with hilarious comedy from Amy Miller, Adam Pasi, and Carla Rossi! GET THOSE TICKETS NOW!
• The WEATHER REPORT: A soaker of a day tomorrow with lots of rain here and a high of 50, with high winds on the coast, and snow in the mountains.
• And finally, if you are a beginning reporter, watch this master class in interviewing (and making celebrities wildly uncomfortable).

Currently obsessed with Leta Powell Drake, the greatest interviewer of all time. pic.twitter.com/3oCYAd9vZD

— John Frankensteiner (@JFrankensteiner) November 12, 2020