We need your help. The economic fallout of the coronavirus crisis is threatening our ability to keep producing the quality reporting you've come to love. If you're able, please consider making a monthly contribution to the Mercury.
Sponsored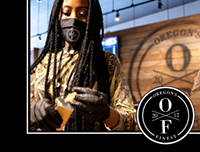 Oregon's Finest has great deals on cannabis gifts with curbside pickup & FREE delivery!
GOOD MORNING, PORTLAND! Dancing together, ain't nothing that could be better. Tomorrow don't matter, we'll make the night last forever. LET'S GO TO PRESS.
• Whooooo, what about that weather? Drenching rains and winds whipping up to 50 mph are still coming through the area this morning, and roughly 9,000 homes in the Portland metro area are without power. This will eventually calm down and you can expect normal showers later today.
• Oregon has broken yet another daily record for new cornavirus infections with a stunning 1,122 cases reported yesterday—easily topping the previous record of 988 hit last Saturday. Health officials say this predicted surge is largely due to people bringing their friends inside during the colder weather, and Gov. Kate Brown is calling a news conference today to announce (uh-oh) "new measures to address Oregon's alarming spike in COVID-19 cases and hospitalizations." And this just in: The governors of the three West Coast states are urging a travel advisory, asking their citizens to stay put and avoid travel for 14 days (which includes Thanksgiving). Stand by, we'll have more on this later.
#BREAKING - 14-day quarantine now recommended in Oregon, California and Washington if coming from another state or country. Applies to non-essential travel, not work #LiveOnK2 pic.twitter.com/XyU31cv26k
— Dan McCarthy (@DanMcKATU) November 13, 2020
• Gov. Kate Brown's chief of staff Nik Blosser is leaving his job and movin' on up to join president-elect Joe Biden's transition team in the intergovernmental affairs office.
• The University of Oregon is reducing the number of armed security guards on its campus and shifting "several of its armed officer positions into unarmed community service officer positions." They also plan on implementing programs to counteract racial bias and police brutality.

"I understand that to some members of our community, particularly our students, faculty, and staff of color, an armed police force generates feelings of oppression and a lack of safety." https://t.co/7DRepdz2Eq
— OPB (@OPB) November 12, 2020
IN NATIONAL NEWS
• Meanwhile, another new daily record of COVID infections for the country was set yesterday with 160,000 reported cases in one day. Meanwhile school districts across the nation are giving up on in-person classes thanks to the horrific spike in COVID cases, and new, tighter restrictions on restaurants, gyms, and more could be on the way.
President Trump's refusal to concede the election and allow President-elect Joe Biden's team access to key health officials could make it harder for the federal government to distribute a coronavirus vaccine, once one is approved, a top Biden adviser said. https://t.co/0dpAgQsXNv
— The New York Times (@nytimes) November 13, 2020
• All the major media have called it: Joe Biden has won Arizona and flipped it blue. This brings Biden's electoral count to 290 vs. LOSER Trump's measly 217.
• And for those of you with batty relatives who are buying in to Trump's ridiculous election fraud lies, send them this headline: "Top officials: Nov. 3 election most secure in US history."
• Apparently, according to sources within the administration, Trump has accepted the fact that he LOST, but is still going to continue pushing his fraud conspiracy theories until he can figure out what to do after leaving office—and how to avoid prosecution for his many crimes.
UPDATE: At a press conference last week, Eric Trump & Rudy Giuliani introduced a "poll watcher" who said he was obstructed in PA, but DIDN'T mention that he was also a lawyer at the firm representing the campaign. That firm, Porter Wright, just resigned https://t.co/tLuTdIyugf
— Rachel C. Abrams (@RachelAbramsNY) November 13, 2020
• Democrats are working their buttz off to keep Georgia voters engaged and ready to vote for their two Senate runoff candidates, Raphael Warnok and Jon Ossoff. Without these two wins, Republican Senate Majority Turtle will continue to obstruct Biden's attempts to reverse all the harm Trump has committed. But unlike during the general election, Dems will be focusing on Georgia's Latino vote.
• Trump campaign adviser/criminal crony Corey Lewandowski has (YOU HATE TO HEAR IT) tested positive for COVID-19 after attending the same White House election night petri dish party that has infected so many others in the administration.
• UNRELATED (OR IS IT?): Britain's "Yorkshire Ripper"—the serial killer who terrorized Northern England during the '70s—has died after testing positive for COVID-19.
• Another headline that will make you say, "Fuck Donald Trump": "More than 130 Secret Service officers are said to be infected with coronavirus or quarantining in wake of Trump's campaign travel."
• Teens of America rejoice: According to the Commerce Department, TikTok will not be forced to shut down for now as their case continues to wind its way through appeals court.
• Running now through Sat Nov 28: The brand new "HUMP! Greatest Hits, Vol. 2" featuring the sexiest short flicks from the past 15 years of festivals! (Look, you NEED this. GET THOSE TIX NOW!)
• This coming Wednesday, November 18, it's the latest I, ANONYMOUS SHOW featuring the wildest anonymous confessions and rants, with hilarious comedy from Amy Miller, Adam Pasi, and Carla Rossi! GET THOSE TICKETS NOW!
• The WEATHER REPORT: A soaker of a day with lots of rain here and a high of 50, with high winds on the coast, and snow in the mountains.
• And finally, leave it to the Brits to ABSOLUTELY EVISCERATE Trump. Watch one of their masters at work.

Jonathan Pie for the win...pic.twitter.com/3Z2O63RjHQ
— Rex Chapman🏇🏼 (@RexChapman) November 12, 2020