Takeout Club, I play an obnoxious bugle horn for thee! In the face of Governor Kate Brown's
new, temporary restrictions on indoor spaces
and small gatherings, we who merrily walk down the sidewalk with hot coffee in one hand and sandwich in the other can keep our steady stride.
Sponsored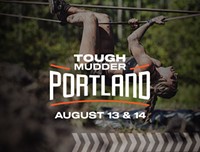 Lock in your summer adventure, Portland. Join us for world famous obstacles over a 5K or 10K distance.
That's not to say that it isn't a disappointing development for bars and restaurants. So many spots invested in outdoor dining patios this summer, and over the past month we watched sturdy rain shields spring up to cover the glow of outdoor heating lamps. We were all poised to spend the winter outside! And we still will be when the curve flattens. For now, our beloved food scene is struggling so I would encourage you—if your budget allows—to order out a little more and support local restaurants for this brief, but necessary shutdown.
In that spirit, here are a few hot sandwich spots to grip in your fist while you stare this misty Northwest weather in the face and say through gritted teeth, "Oh actually, I like the rain."
Lottie & Zula's
New kids on the block of NE Russell,
Lottie and Zula
's sandwich window just opened this past October. One day they'll have a indoor dining area, but for now this New England style grinder shop is operating from a bright and friendly window next door to the Wonder Ballroom.
Something unique about this new shop is their variety of sandwich sizes. Most of their grinders can be made at lengths of four, six, eight, or 12 inches. Their My Guy D'angelo—cheeseburger on a toasted hoagie roll with melted cheese, shredded lettuce, red onion, pickles, mayo and mustard—only comes in four, eight, or 12, due to the hamburger patties, but I heartily recommend it. It holds up nicely in the hand when tromping through the leaves and lives in that perfect valley between soft and crunch.
There aren't many vegan sandwiches on offer at Lottie & Zulas, but their Moby vegetarian grinder has some nice savory tastes to it. The fire roasted peppers and herb chevre dominate over the grilled mushrooms and lettuce, but that's enough pep without over complicating the sandwich.
If I have one hope for this new sandwich shoppe, it's that they'll up their wrap game for easy access so I don't have to completely take it out of the wrapper to eat, but if you take your food home like a reasonable person there shouldn't be any issue.
Lottie & Zula's, 120 NE Russell, (503) 333-6923, lottieandzulas.com
Better Half
Only open since July,
Better Half
—whose name references their Monday-Friday $10 half sandwich and soup deal—is one of those brave businesses that launched boldly into the icy waters of the COVID shut down. Picking up or ordering to-go has you following helpful chicken feet directional aids through a cheerful, bright blue dining area that has yet to see much use. However, Better Half is gathering a strong following of sandwich fans, especially with vegans. Every sandwich on their board has a good or better vegan counterpart.
For instance, when I stopped by, on my never-ending search for a spicy sandwich, their Jackfruit Mojo treated me to a pickled kingdom of onions, jalapeños, dill pickles, dijonnaise, and carrot-habanero jam atop a house-made provolone vegan cheese and vegan ham. Their Spicy Sriracha Pork Bahn Mi is likewise great—similar pickled goodies and sauced with a delightful kimchi mayo and sriracha lime sauce—but the French roll suffered from soggy-bottom-syndrome and the sandwich started to fall apart as I ate.
Better Half has a nice outdoor seating area in the One North courtyard that they're currently unable to use (although there's plenty of outdoor seating in the courtyard). It seems like a confusing shame that restaurants can't operate their outdoor dining areas during this emergency freeze, but I'll be back both to try other items on Better Half's menu and to sit outdoors when we can again. For now, at least, there's takeout!
Better Half, 25 N Fremont, 971-347-3152, betterhalfpdx.com