We need your help. The economic fallout of the coronavirus crisis is threatening our ability to keep producing the quality reporting you've come to love. If you're able, please consider making a monthly contribution to the Mercury.
GOOD MORNING, PORTLAND!
Most people looked at him with terror and with fear, but to Moscow chicks
he was such a lovely dear.
LET'S GO TO PRESS.
Sponsored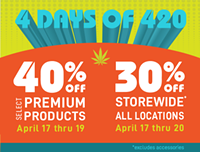 30-40% off Premier Dispensaries April 17-20
Flower, pre-rolls, edibles, carts and more.
These 4 Days of 420 are for you.
• Oregon's COVID updates continue to be alarming: Hospitalizations from the virus have risen 137 percent since November 1, yesterday passing the 400 mark. The Oregon Health Authority reported 1,099 new, positive COVID cases and 10 additional deaths. State lawmakers are considering labeling the situation "catastrophic" in order to convene a special remote session, and make quick changes without the red tape.
Voters approved this catastrophic disaster provision in 2012, with an eye toward a massive earthquake and resulting tsunami. But House Speaker Tina Kotek said Wednesday that COVID-19 is just as valid a reason. https://t.co/Mrx6kzADwO
— OPB (@OPB) November 19, 2020
• While Portland voted in favor of progressive ballot measures during the recent election, their choice of candidates leaned further to the right. Abe Asher talks to local activists to find out what we can expect from a more moderate city council that may be intent on upholding the status quo.
• Police in Lake Oswego say they have identified a 19-year-old Gladstone man who allegedly left two decapitated deer heads on separate lawns next to Biden/Harris and Black Lives Matter signs. The cops were a little too quick to say the action was not racially motivated.
• The passage of Multnomah County's universal preschool measure also shows smart planning that could be used to push progressive policies in other parts of the nation. Our Blair Stenvick looks into it deeper.
This story was particularly nice to report and write because it's about two groups with shared goals, but different processes and focuses, coming together and achieving something huge. https://t.co/LuNCIPaZbF
— Blair Stenvick (@BlairStenvick) November 18, 2020
• A man has been arrested for the stabbing death of Matthew Choi, the co-founder of Portland's popular Choi's Kimchi. The suspect was a neighbor of Choi, and is also being charged with burglary.
IN NATIONAL NEWS
• The American COVID death toll has now topped 250,000, and yet instead of a coordinated national response (hello, infinitely corrupt Trump administration), states are being left to create a patchwork (and spotty) response.
• Though they know their plan is futile, the Trump administration intends to keep pushing their lies about winning the election through December, and possibly all the way to Inauguration Day. Meanwhile, some in the administration are privately reaching out to the Biden transition team, while still denying them the usual official channels.
• The number of Americans seeking unemployment benefits rose to 742,000 this week, indicating that a new round of national layoffs are starting. Too bad Senate Majority Turtle Mitch McConnell is only interested in pushing through Trump appointees rather than working on COVID relief!
As the coronavirus surges, Senate Republicans are busy confirming more of Trump's lifetime federal judges.

The latest? A 33-year-old rated "not qualified" by the American Bar Association. https://t.co/xAFEOfSw2B # via @HuffPostPol
— Dulé Hill (@DuleHill) November 19, 2020
• In yet another loss for Trump, a federal judge has put a stop to the administration's racist and overwhelmingly cruel policy of deporting immigrant children who cross the border on their own.
• The results of Georgia's ballot hand recount is expected to be released today, and... well, whaddaya know? As election officials predicted, it's looking like the first count was, for the most part, right all along.
• The two Pennsylvania Republicans from Wayne County who first refused to certify the county's votes, and eventually agreed, are now trying to rescind their decision saying they were pressured to make (what most agree) was the right call. Unfortunately for them, it's too late to do anything now HAHAHA.
NEW: Wayne County Republican board member says Trump called her Tuesday night before she publicly asked to 'rescind' her vote certifying election results. Watch for details momentarily https://t.co/pdVzlMmdQm
— Tom Hamburger (@thamburger) November 19, 2020
• As in Portland, the arrests of thousands of protesters across the nation are being dismissed because prosecutors know they were simply exercising basic civil rights.
• Bobby Brown Jr., the son of singer Bobby Brown, has been found dead in his apartment at the age of 28. No foul play is currently suspected by authorities.
Happy Birthday Adam Driver!!! #HappyBirthdayAdamDriver
🎂🎂🎂🎂🎂🎂🎂🎂🎂🎂🎂🎂
🎈🎈🎈🎈🎈🎈🎈🎈🎈🎈🎈🎈
🥳🥳🥳🥳🥳🥳🥳🥳🥳🥳🥳🥳 pic.twitter.com/veHr5SLPjv
— 🧡🌼🦋Ginna🦋🌼🧡 (@Ginna_Driver) November 19, 2020
• Running now through Sat Nov 28: The brand new "HUMP! Greatest Hits, Vol. 2" featuring the sexiest short flicks from the past 15 years of festivals! (Look, you NEED this. GET THOSE TIX NOW!)
• Now let us squint skyward at the WEATHER: More showers with some sunbreaks today and a high of 50!
• And finally, happy Thursday everybody! Hope your duets are as good as this one.

The perfect TikTok doesn't exi- pic.twitter.com/qL2s4GvESF
— Jeff (@JeffWantPoppers) November 19, 2020