In many ways it's always pizza season, but right now seems like a particularly good time to put in an order. But Portland has so much good pizza, where to start? We'll start with the food world's most beloved chimera, the cheeseburger pizza.
Sponsored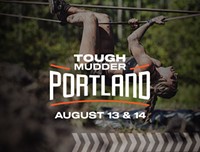 Lock in your summer adventure, Portland. Join us for world famous obstacles over a 5K or 10K distance.
You probably never realized you wanted mustard on a pizza before, but in this case you definitely do. Don't skimp on the ground beef and it's nice when the onions have bite. For our purposes, there are three places in Portland with the imagination (dare I say bravery?) to offer the one, the only, cheeseburger pizza.
Rudy's Pizza PDX
The family-owned sports bar Rudy's Pizza PDX has been holding it down on SE Powell since 2006. They're known for making up pies on a great, gluten-free crust for only three dollars extra. Also, their menu contains plenty of vegan mirror versions to their meat and veggie pies.
But what actually makes Rudy's so special is their generous approach to pizza toppings and the decadent combinations Rudy's menu proudly broadcasts. Take, for instance, the Ru's Dill Pickle (pickle slices on a bed of Mozzarella cheese topped with Ranch dressing) or the Creamy Sriracha Chicken (chicken, pineapple, colorful bell peppers, and cilantro over Rudy's creamy sriracha sauce)—these are the dreams of a snack ruler made real.
It's their Ru's Cheese Burger that wins my heart, though, because I grew up eating McDonald's and Ru's Cheese Burger is like a Big Mac became a pizza. The pie is loaded up with ground beef, cheddar cheese, and red onion, sizzling in the company of freshly cut pickles and tomatoes over a bed of Thousand Island dressing. There isn't mustard, and that's fine. Not every cheeseburger requires it, and Rudy's cheeseburger pie is a perfect vision of its own.
Rudy's Pizza, 2443 SE Powell, (503) 771-8008, rudysgourmetpizza.com
Hammy's Pizza
The only other non-chain, cheeseburger pizza spot I found in Portland is Hammy's, the much beloved night slice shop on SE Clinton (they're open til 4 am!), historically staffed by kind-hearted metal-heads and punks. Hammy's approach to a cheeseburger pie DOES involve mustard, but the tangy yellow is drizzled on top of a generous bed of cheese, bacon, tomatoes, onions, and ground beef. It's a fairly solid delight.
Here's some extra advice: If you're gonna get Hammy's, you should always go the square slice route. Their round pizzas are hand-tossed, but those square little bricks of cheese and tomato sauce always wow me way harder than their circular pies. Hammy's used to reliably have your more basic slices ready to go for walk-up, but in the current Takeout Zone environment—especially if you want a specialty slice—you'll want to order ahead.
Hammy's Pizza, 2114 SE Clinton, (503) 235-1035, hammyspizza.com
Dominos
Am I going to write about Dominos, here? You bet I am. We went through a lot this summer, but one good thing—perhaps THE ONLY GOOD THING—that came out of it was the unveiling of Dominos' glorious cheeseburger pizza. In August it joined their permanent menu, never to run out of limited time.
This pizza is a pizza built by science. This pizza was built by committee. And it shows. The ground beef sprinkled on top is just enough to satisfy, but a nugget more would be a waste of product. The pie's ketchup-mustard sauce is so deft that it's less like a taste and more like nostalgia. The trifecta of mozzarella, provolone, and cheddar cheese could probably have been just one kind of cheese!
I love it, and it's an economical way to enjoy the upstanding marriage of two universally beloved fast food options. It's like Batman and Superman finally tying the knot. Batman is the pizza, Superman is cheeseburger, and I won't hear differently!
Dominos, various locations, dominos.com