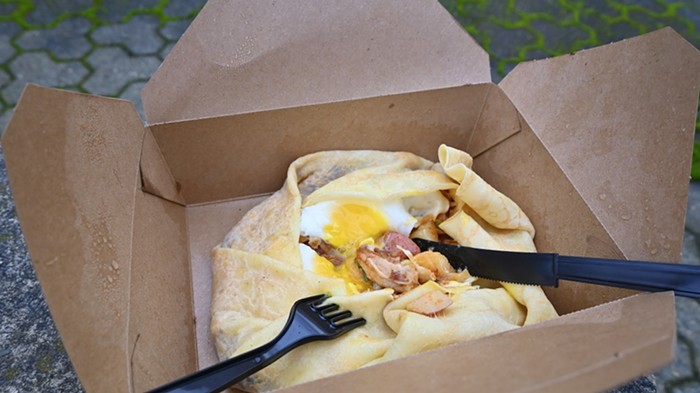 Crepes are a holiday food in my family. Sometimes we made them on my birthday—on account of my name's relation to the dish Crêpes Suzette. We'd also seek them out on vacations, hoping to find one of those restaurants or food stalls where they spread the light pancake batter on large circular griddles and flip it with style. Most memorably, crepes were our main breakfast on Christmas morning because it was the only day of the year my dad didn't work.
Sponsored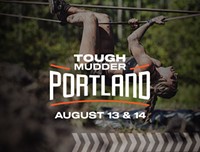 Lock in your summer adventure, Portland. Join us for world famous obstacles over a 5K or 10K distance.
I come from a fairly gender-traditional family, cooking-wise: My mom cooked most of our dinners and my dad acted like this made her a wizard with unfathomable powers. But on Christmas morning the roles were reversed. Mom walked around loudly expressing total mystification at how crepes could possibly be cooked by mere mortals, and my dad broke out his closely-guarded crepe pan, that in its later years bore the greatest sign of his devotion—duct tape around the handle.
If you, like my mom, don't believe crepes can be cooked by mere mortals or, like my dad, have to work almost every morning of the year, here are a few delightful places in Portland to get crepes without making them your damn self.
Urban Crêperie
Once again we wring our hands for a small brunch and crepe spot that opened during the coronavirus pandemic. Urban Crêperie's location—in the restaurant / bar desert that is downtown Portland's Southwest side—is dynamite and its dining room both charming and sunny, even on a cloudy Portland morning. But when I mentioned this to owner Ilya Afanassiev he sighed deeply, "This hurts me to hear."
Due to Afanassiev's low contact set-up, the creperie's interior details—a gleaming espresso machine atop a stonework counter, a long wooden bench at the back decorated with bright cushions—can only be enjoyed from a distance for now. But Afanassiev mentions that things are slowly improving. "We're busier and busier, little by little," he says.
The food is likely the greatest factor in this. Urban Crêperie's menu has terrific variety, offering items as straightforward as the BLS (all you really need in this life is butter, lemon, and sugar on a crepe) and as filling as the Hangover Crêpe, which comes bursting with soft and flavorful pork belly complimented by kimchi, potatoes, scallions, and cheese—topped with a perfect sunny-side-up egg.
Also, don't overlook the Ricotta crepe, which combines salty, rich cheese with the crepe's already savory-sweet dough. Add some jam and whipped cream to achieve true salty-sweet breakfast transcendence. I can think of nothing better than a Ricotta Crêpe and espresso to go.
Urban Crêperie, 1216 SW Morrison, (503) 954-1492, urbancreperiepdx.com
Suzette
We can't write about crepes in Portland without giving a well-deserved nod to the SE Belmont neighborhood cafe and creperie, owned by pastry chef Jehnee Rains. Rains is also doing low contact pick-up during this time, made easy by a very user-friendly dedicated Square site for the shop.
When it comes to Suzette's filled crepes, it's important to remember that each $10-14 crepe is basically a full meal. The crepes come artfully bursting with ingredients. I've always been partial to their Marsala-Soaked Fig Crêpe (it can be made vegan!), which sounds sweet, but does that terrific crepe-thing of melding sweet and savory to include roasted garlic-chickpea spread, caramelized onions, and spinach into the mix. There's flavors for days.
The Smoked Salmon Afrique Crêpe is likewise complex—combining salmon, spinach, and that garlic-chickpea spread again with a wonderfully rich lemon-cilantro Algerian relish called a charmoula. You'll be pondering the depths of lemon and cilantro for a good while afterward.
Right now, you can also order stacks of eight small sweet crepes and a jar of Suzette's signature "Oatella"—a dark chocolate / hazelnut spread made with oat milk—for $25. This seems like a fabulous deal if you don't want to chow down on a full crepe meal or just want chef-made crepes at a time Suzette isn't open.
Suzette, 3342 SE Belmont, (503) 546-0892, suzettespdx.com