Thanks to a temporary bill the Oregon legislature passed on December 21, bars and restaurants can finally sell sealed cocktails and mixed drinks via takeout and delivery. This is something business owners have clamored for since the necessary coronavirus shut down began—as other states (like Washington!) enacted temporary permissions for cocktail takeout and delivery in May. By all appearances,
they have not yet fallen into ruin!
Sponsored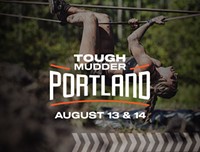 Lock in your summer adventure, Portland. Join us for world famous obstacles over a 5K or 10K distance.
Much like Washington, to-go cocktails ordered in Oregon must accompany a "substantial food item." That's an entree, like a sandwich—not fries or onion rings. One to two cocktails necessitates a "substantial" meal, and if you want a third, THAT'S ANOTHER SANDO. Five drinks for your family? Three sandwiches! Research for this column saw me walking down the street, arms laden with to-go sandwiches (you really must pity me).
There's an understandable impulse to run out into the streets and PUT ALL THE COCKTAILS IN YOUR MOUTH (perhaps this sandwich rules makes sense after all), but the temporary bill will stay in effect until 60 days after Governor Brown lifts the current state of emergency, so you have time. We have time. Personally, I started out in North Portland.
Though the space Tulip Shop Tavern occupies was, for many years, a popular community college dive, they have absolutely no patience for dive bar behavior. "We got rid of that vibe within the first six months," Tulip Shop's co-owner Tyler Treadwell says, as he fixes me a drink.
The bar still has a neighborhood feel, and a nice, big back patio, but in terms of what they offer, it's like a whole new world. On tap they have Czech and German lagers, and as soon as Treadwell starts describing his approach to a gin Gimlet, I know I'm in good hands.
"Gimlets have a bad wrap because so many bars use Rose's lime cordial instead of fresh-squeezed lime juice," he says. Tulip Shop squeezes their own and also makes an orange flower water, which he adds to the cocktail.
To buy a to-go cocktail at Tulip Shop right now, you're essentially buying two drinks. That's because of the size of the can they come in, which Treadwell seals with a small machine he keeps at the end of the bar.
"I bought it about a month ago," he says of the canner, "in case someone wanted to take a beer to go." He pours the drink and seals it, then says, "The thing is—I don't know if you've ever been a bartender—but when you pour a drink, there's an effervescent foam on top." The can kills the effervesce. But he says that if I pour the drink over ice it should taste a little more like an airy, effervescent Gimlet should.
As per OLCC regulations, I have to order a "substantial" meal with my drink, and the chicken sandwich Tulip Shop's kitchen fries up is above standard: garlic aioli, honey mustard, and dill pickle swamping the spicy cornmeal-encrusted chicken. A double cocktail and a ten dollar sandwich adds up quickly, and before I know it, I've spent over $30. But the Gimlet is terrifically sour, subtle, and FAIRLY INTOXICATING. I've been complaining that you can't get more than two drinks per meal, but at Tulip Shop Tavern, a double cocktail is probably all you need—and just what you need.
Tulip Shop Tavern, 825 N Killingsworth, (503) 206-8483, tulipshoptavern.com
A stone's throw down N Killingsworth is "Portland's Only Bar" the Old Gold, which is co-owned by a former Mercury staffer Ezra Caraeff. Caraeff's tenure never overlapped with mine, but the man sure does send a mean e-mail to let you know the Old Gold is back open, serving food, and blasting out to-go drinks in cute brown medicine-style bottles.
"We started planning this in early summer during the shutdown," he wrote. "Not because we are savvy businessmen with firm confident handshakes, but because we were bored. So incredibly bored. We came up with a double cocktail-for-two packaging concept that looked pretty nice. Then, the second the law was passed, the OLCC said that wasn't allowed, so we panicked, and came up with a different idea at the very last second instead. Basically, 2020."
I didn't get to talk to Caraeff when I dropped by since he was caught up in what appeared to be an unexpected rush of British people trying to celebrate New Year's in their home time zone (midnight Greenwich Mean Time is 4 pm our time), but I thoroughly enjoyed Old Gold's Weller Special Reserve Single Barrel Old Fashioned, which makes sense as single barrel bourbon is Old Gold's main bread and butter.
There's not a lot knocking around in Old Gold's Old Fashioned, just the stuff that should be there: the bourbon, Demerara sugar, bitters, and Amarena cherry and orange peel garnishes packaged on the side. It all works together beautifully and reminds me how much I've missed the Old Gold.
Old Gold, 2105 N Killingsworth, (503) 894-8937, drinkinoregon.com
For more takeout cocktail options, check out Mercury EverOut's complete list.