Portland gained two new hot dog spots in 2020, answering a call that went up from the wurst-hungry people of this town. The city already has a red hot underbelly of terrific hot dog spots—like Olympic Provisions and Nick's Famous Coney Island—but it's always great to have new dogs with even more/different stuff on them.
Sponsored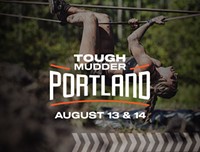 Lock in your summer adventure, Portland. Join us for world famous obstacles over a 5K or 10K distance.
As I write this column, things are pretty topsy-turvy in the world, so this week's Takeout Club explores a quick, filling bite you can grip in one hand, as you keep your head on a swivel—or doom scroll. Enough chatter, tell me about these NEW DAWGS.
Occupying a little storefront in downtown St. Johns since June, Hot Dog Energy brings a punk/metal aesthetic and some delicious bacon-wrapped additions to Portland's hot dog scene.
The sausages have a hearty texture with just the perfect amount of juice and snap, and they're so long that they poke out of the bun on either side. If you like your sausage with crispy ends and a lot of character—not the smooth perfection of grocery store dogs—this is a sausage for you.
I'm a big fan of coney dogs of all kinds, but their Coney Mahoney left me a little underwhelmed, despite the crisp, raw onions and healthy dose of yellow mustard. Based on the dog's toppings, the blame falls to the chili for not holding up that sweet, meaty profile. But I loved the chili on Hot Dog Energy's fried and bacon-wrapped Junkyard Dog, where the pickled jalapeños also offered up a strong assist.
As one would expect of magnanimous punks, all your dogs at Hot Dog Energy can be made with vegan frankfurters. And there's more than enough vegan cheese and chili for some chili cheese fries.
Hot Dog Energy, 8408 N Lombard, (971) 279-5338, hotdogenergy.com
Near the end of November, Afuri Ramen started operating a ghost kitchen in some of their ramen bars, cooking up Japanese-style hotdogs. Kemuri (meaning "smoke") promises a quick, beautiful bite to go. They pop Asian-world flavors on top of their dogs, with garnishes like seaweed and bonito flakes. It makes perfect, salty sense up there.
At first Kemuri's dogs were only available in Beaverton, and you couldn't even get delivery to Portland. But recently they started offering delivery and pickup from the Afuri spot on SE 7th at Yamhill, via the delivery apps. The Afuri on SE 7th also has a nice, covered outdoor area for to-go diners to enjoy their dogs. These dogs are best devoured quickly, in the firelight of their outdoor heating lamp.
Though the Tantanmen Dog looked like the most delicious thing on the menu, I found it to be somewhat bland. Those glorious nuggets of spicy ground pork—perched above like Justin Timberlake's tight "Bye Bye Bye"-era curls—didn't add much to flavor or texture.
Nestled in a solid brick of white bread bun, the Tantanmen removed all available moisture from my mouth and swallowed whatever tastes the green onion and chile mayo tried to offer. Kemuri's bread has a sweetness that will not be unfamiliar to fans of Japanese cuisine. The sausage is smoothly processed, round, and juicy, but all of it was swallowed in the pillowy, sweet bun.
However, the Kimchi Dog, was a near total reversal—the kimchi and cucumber were a better balance for the bread. Again, I didn't really taste the green onion or mayo, but the kimchi wowed me enough to wish Kemuri were close to my office. It would make a delightful quick lunch, and—at $7.70 a dog—one that might perfectly arrange itself into your budget.
Kemuri Japanese Hotdogs, 923 SE 7th, kemuri.us