Want to support live music in Portland, local artists, and the
Mercury
? HELL YEAH YOU DO!
That's why you cannot miss TONIGHT'S (Jan 28) livestream performance of soulful singer/songwriter BLOSSOM's live concert recorded at Polaris Hall! Since day one, the Mercury has been committed to promoting Portland's live music scene and its artists that make it great. That's why, even though the pandemic has temporarily shuttered local venues, we want to keep bringing you great music and the great local artists who make it!
And let me tell ya, folks: BLOSSOM IS THE REAL DEAL. One of Portland's favorite singers within the soul/jazz/R&B arena, Blossom is blessed with gorgeous vocals and a magnetic stage presence that really shines in a live setting. Plus she will be joined on the Polaris Hall stage by the also wildly talented Charlie 3rown on keys!
WANT A TASTE? Check out the following teaser for peek at what you can expect in tonight's livestream performance:

Good stuff, am I right? Well, if you liked that, then you will LOVE Blossom's show tonight, starting at 8 pm! And look, we know times are tight! That's why we're offering PAY WHAT YOU CAN tickets so everyone can enjoy this fantastic performance.
So what are you waiting for? GET THOSE TIX NOW AND HERE to see the marvelous BLOSSOM tonight, and support Portland's terrific music scene, local musical artists, and the Mercury all at the same time!
---
For more, check out EverOut's Q&A with Blossom about the things she's been up to lately.
Sponsored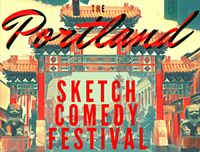 Sketch comedy troupes from all over N. America descend on The Siren Theater for 3 glorious nights.