Here's your daily roundup of all the latest local and national news. (Like our coverage? Please consider making a recurring contribution to the Mercury to keep it comin'!)
Sponsored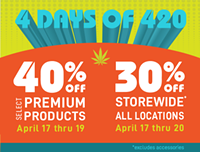 30-40% off Premier Dispensaries April 17-20
Flower, pre-rolls, edibles, carts and more.
These 4 Days of 420 are for you.
IN LOCAL NEWS:
• For all of you who have had your power restored in the Portland area, well, CONGRATULATIONS, I GUESS—but there are still around 140,000 of us in the city who remain without electricity and nearly a quarter of a million statewide. For some very unlucky customers, they've been without power for four days. BUT REMEMBER, while many of the warming stations are closing, there are plenty of Portlanders living outside in the cold, wet weather who could use your help. Find out how here!
• A recent audit conducted by the city's Independent Police Review found that Portland Police lack a clear, consistent, and legally-sound system for communicating with Portlanders who don't speak English—which is a pretty big problem since many non-English speaking folk live in East Portland where the majority of 911 calls originate. Our Alex Zielinski has more!
The audit, made public last week, points to a gap in the Portland Police Bureau's stated commitment to equity that's been acknowledged—but not addressed—by city leaders and the federal government for years.https://t.co/tErw2woWwA

— Alex Zielinski (@alex_zee) February 16, 2021
• For those who remember the gas explosion in Northwest Portland back in 2016, today's gas leak in the same neighborhood probably brought back scary memories. Happily, Pacific Power crews rushed in to repair the leak without any major incident.
IN NATIONAL NEWS:
• If you think the power outage situation is bad here, remember that more than 4.4 million people are currently without electricity in Texas (a state whose Republicans previously gloated about their energy independence). Meanwhile at least 25 people have died from the winter storms sweeping the southern part of the nation.
Rep. Dan Crenshaw (R-TX), who allegedly tried to smear a female veteran to disparage her sexual assault claim and TX AG Ken Paxton, who is defending two criminal cases, thought mocking CA's energy crisis was funny.

Now millions in TX have no power during a winter storm. pic.twitter.com/gFnygHoyBN

— Amee Vanderpool (@girlsreallyrule) February 16, 2021
• After being badmouthed (but not voted against) by his former minion, Senate Minority Turtle Mitch McConnell, Trump is now pledging to support any candidate who wants to take down McConnell in the future. Wait... wait... wait... Trump is turning against those who supported him during his entire tenure? WHO ON EARTH COULD'VE SEEN THIS COMING??
In Michigan, one of the key battleground states that Donald Trump lost in November, there are growing signs of a Republican Party not in flux, but united in doubling down on conspiracy theories, misinformation and intolerance.https://t.co/fpmfTPrv1i

— The New York Times (@nytimes) February 16, 2021
• Today Busy Bee Biden extended the ban on housing foreclosures until June 30 for those with federally guaranteed mortgages. Meanwhile, I'm still waiting on that "rent cancellation" thing... or am I the only one who doesn't want homelessness to skyrocket when these moratoriums finally end?
• House Homeland Security Chairman/Rep. Bennie Thompson is the first of many who will be suing Donald Trump for his role in instigating the domestic terrorist riots on January 6. (Now if Trump can only find a non-idiot legal team to defend him!)
The U.S. Capitol Police union issued an overwhelming no-confidence vote for the force's top leaders, including acting Chief Yogananda Pittman and a half-dozen other agency leaders. https://t.co/VTYQH8thNv

— NPR Politics (@nprpolitics) February 16, 2021
• Regarding the white Karen who called the cops on a Black bird watcher in Central Park, charges against her have been dropped after she reportedly completed mandated therapy/racial education sessions. However, her legal team struck an unnecessarily defiant tone, hinting they (and maybe she?) think she was innocent of the charges.
• This Thursday, do not miss the second installment of the Mercury Music Series with a special performance filmed live at Polaris Hall by Yawa (AKA Amenta Abioto)! Get your sliding scale tickets here!
• Let the bells ring and the confetti fall! The HUMP! 2021 Film Festival is NOW STREAMING ONLINE, featuring an array of hot 'n' horny amateur dirty flicks submitted by hot people like YOU. Get your tickets pronto!
• And now... THE WEATHER REPORT: A dry but mostly cloudy tomorrow with a high around 45.
• And finally, it's just a "suckin' on a chili dog" kind of day.

Jack and Diane but all of the lyrics are "suckin' on a chili dog" pic.twitter.com/p0w7w0hDTV
— Tom McGovern (@tommcgovern27) February 12, 2021