Here's your daily roundup of all the latest local and national news. (Like our coverage? Please consider making a recurring contribution to the Mercury to keep it comin'!)
Sponsored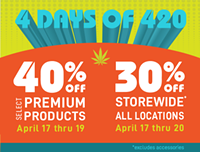 30-40% off Premier Dispensaries April 17-20
Flower, pre-rolls, edibles, carts and more.
These 4 Days of 420 are for you.
In local news:
• The Western States Scientific Safety Review Workgroup—that includes Oregon, California, Washington, and Nevada—has officially authorized the Johnson & Johnson shot as safe and effective, which means it'll be coming to an arm near you soon.
• Rep. Diego Hernandez announced he will resign from the Oregon Legislature last month, after facing several credible claims of sexual harassment. Now, four candidates are vying to replace Hernandez in the Oregon House.
• KGW has found that federal prosecutors have dismissed one-third of federal cases against Portland protesters since last summer. Officials say the cases were dismissed because they could not be proven beyond a reasonable doubt.
• Some Democratic lawmakers in the Oregon Legislature are pushing a bill that would raise the state's minimum wage to $17 an hour. The bill would also get rid of regional differences in the minimum wage that currently exist in Oregon.
• The Oregon Brewers Festival has been canceled for the second year in a row due to the COVID-19 pandemic.
In national news:
• President Joe Biden has agreed to limit $1,400 stimulus checks only to those who earn less than $80,000 a year, in an effort to appeal to moderate members of Congress. That means Biden is being stingier with the stimulus checks than Donald Trump was, which really feels like a perfect illustration of how Democratic politicians trip over themselves to appeal to moderates.
• In a Congressional hearing held earlier today, the head of the Washington, D.C. National Guard told lawmakers that Trump administration officials with the Pentagon refused to send in troops during the January 6 attack on the US Capitol. According to DC National Guard commanding general William Walker, the reluctance was over a concern about "optics." Funny how they didn't care about "optics" when it was Black Lives Matter protesters outside the White House!
• Today in "ridiculous controversies drummed up to feed the culture war": Dr. Seuss' estate decided to stop printing a couple of the author's less-popular books that include racist words and imagery. Conservatives are convinced this is cancel culture, rather than a smart business decision. *Cue the outrage economy.*
And just for fun:
• Wraps get a bad rap—but Takeout Club is here to change that with some god-tier Portland wrap suggestions.
• An icon, a legend, the moment:
In the UK right now a train is delayed as a cat is sitting on the roof and refusing to come down. pic.twitter.com/I4WAC681Te
— RS Archer (@archer_rs) March 3, 2021