Adorned with street art and stickers, self-proclaimed "classic Southern New-England style deli" Lottie & Zula's opened in the former Toro Bravo space in October 2020. Owner Fletch Halyburton hails from Rhode Island, and based the shop after the sandwich spots and delis he grew up with. The extensive menu features grinders and sliced-bread sandwiches, with sweet and savory treats by
Jen's Bagels and Pastries
. I really love that the grinders come in 4", 6", 8", and 12" sizes so your indecisive self can get a whole sandwich smorgasbord if your heart desires.
Sponsored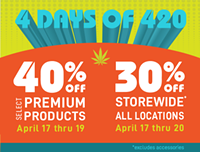 30-40% off Premier Dispensaries April 17-20
Flower, pre-rolls, edibles, carts and more.
These 4 Days of 420 are for you.
The aforementioned Jen also makes the bolo levedos (Portuguese muffins) that serve as the foundation for L&Z's breakfast sandos. "[I would say] that bolo is kind of the most Southern New England-specific thing that you really can't find outside of that area," says Halyburton. Late risers and breakfast enthusiasts alike will be pleased to hear that breakfast is served all day!
Never one to pass up on elderflower liqueur St. Germain, I tried the "Picabo," which is named after Olympic skier Picabo Street. The cocktail is rounded out with Lewis & Clark vodka, rosemary syrup, and lemon. Served in a frosty 12-ounce can that contains ice, the full-proof cocktail is ready to pop open and pour… into a glass, or straight into your mouth.
"The 3-ounce spirit restriction was a difficult proposition with the 12-ounce cans," bar manager Erica Namare says. "But it definitely inspired an epiphany that creates an even better and totally unique product—ice in the can itself." If you're feeling in need of a warm up or something not as stiff, however, Lottie & Zula's has you covered as well. The menu also has a selection of hot cocktails and low-proof cocktails.
The sandwich shop's "Après" (French for "after") cocktail concept comes from Halyburton's affinity for skiing, and the post-slope ritual of enjoying a drink with friends. "A lot of your best après-ski events are just hanging out on the tailgate of your car," says Halyburton. The cans certainly make for a portable mountain adventure bevvie, but the spirit of these drinks is après anything. Après homeschooling your kiddos, après back-to-back Zoom meetings, après your second nap of the day, après WHATEVER. We're a year into this crazy lockdown… any excuse to drink is valid.
Believe it or not, the non-alcoholic section of the beverage menu is just as enticing as the cocktail section. Namare also created three no-proof toddies for the teetotaler crowd. A hilarious corner of the menu features "juices named after famous juicers"—a lineup of fruitades with names like "Barry Bonds" and "Jose Canseco." There are milks! Chocolate, of course, but also coffee milk or strawberry milk; all of which you can get hot or cold. Natural process coffee by Push x Pull, house made sodas, even a selection of fancy waters. All of which begs the question: why bother putting Coke and Sprite on the menu?! I mean, I know they're staples that when absent certain people will surely raise a fuss. But if you're ordering a Coke when there's options like the above on the table, just know that I'm judging you. Hard.
Lottie & Zula's (the owner's great-aunts who were actually always at loggerheads; love a good family story) is the amalgamation of Halyburton's interests and life. There's a continuity of juxtaposition between the high-brow and low-brow that runs through the cocktail program that Namare spearheads, as well as the aesthetic of the shop, and the food itself. Halyburton dropped out of art school to cook, and while his art career shifted from glass-blowing to the more accessible graffiti and sticker culture, his cooking trajectory moved towards haute cuisine. "We make sandwiches, but we put thought and care into it. How do we make the food last longer, how do we keep the bread from going soggy, all of those little things to improve the experience like a higher-end restaurant might look at it."
At present, customers can stroll up to a decked out pair of order and pick-up windows built into the doors of the restaurant. When the vaccine rolls out to the service industry and Halyburton can ensure the safety of his staff, Lottie and Zula's will begin service. There are plans for indoor and outdoor dining, a meat counter, and grab-and-go sections for the beverages and pastries. From what I've experienced from the sandwich shop so far, I can't wait.
Lottie & Zula's, 120 NE Russell, (503) 333-6923, lottieandzulas.com