Here's your daily roundup of all the latest local and national news. (Like our coverage? Please consider making a recurring contribution to the Mercury to keep it comin'!)
IN LOCAL NEWS:
Sponsored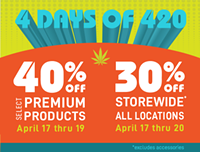 30-40% off Premier Dispensaries April 17-20
Flower, pre-rolls, edibles, carts and more.
These 4 Days of 420 are for you.
• Gov. Kate Brown is taking a cautious approach to President Biden's announcement that he'd like adults in all states to be eligible for the vaccine by May 1. Brown wants to insure Oregon gets the vaccines that have been promised before committing—until then she's keeping our current timeline (everyone 16 and older by July 1) in place.
• In an attempt to get kids back into classrooms, and because of a serious lack of space in schools, Oregon health officials are considering lowering the six-foot distance requirement down to three feet—but only on a "gradual phased-in basis" to insure the safety of students and teachers.
Portland broke ground on 142 units of affordable housing today!

At $58 million, Las Adelitas is the largest redevelopment ever in the Cully neighborhood.

A majority of units will be 2 or 3 bedrooms & others are for formerly houseless

Rent will be 30-60% of area median income pic.twitter.com/Hov8EFFthJ

— Zane Sparling (@PDXzane) March 12, 2021
• Mayor Ted Wheeler plans on asking city council to get $1.7 million in emergency funds to immediately re-establish a police patrol similar to the dissolved Gun Violence Prevention Team, which was disbanded in June 2020 after a city audit found the team disproportionately surveilled and targeted Black Portlanders. What's up with that? Our Alex Zielinski has the low-down.
• Today Multnomah County moves from "high" to "moderate risk" level which means restaurants, bars, gyms, and other businesses can move to 50 percent capacity. It also means more people are allowed at home gatherings... but please do not go nutz. It's still vitally important to WEAR YA DAMN MASK, WASH YA DAMN HANDS, AND KEEP YA DAMN DISTANCE.
Here's something unusual and nice: The @portlandmercury is hiring!

This is a full-time staff writer position (w/ an entry-level salary). Looking for someone who can write breaking news, is curious about this city, & doesn't take themselves TOO seriously:https://t.co/J0SACVE3JQ

— Alex Zielinski (@alex_zee) March 12, 2021
IN NATIONAL NEWS:
• Welp, this headline just about says it all: "Cuomo Says He Won't Bow to 'Cancel Culture' and Rejects Calls to Resign." Oh, they did leave one part out, which is "Fuck you, Andrew Cuomo, but thanks for letting us know that you aren't worth saving. IMPEACH HIS ASS."
• And if that isn't enough, not only have Reps. Alexandria Ocasio-Cortez and Jamaal Bowman called on Gov. Andrew Cuomo to resign, Senate Majority Leader Charles Schumer and Sen. Kirsten Gillibrand have joined the dog-pile as well. THAT SHITHEAD HAS GOT TO GO.
NEW: perhaps amid all of the news surrounding Cuomo, you are interested in learning more about Kathy Hochul, his lieutenant governor who would succeed him after a resignation/removal.

A quick look at the LG from her hometown of Buffalo: https://t.co/zw6OpLMtWB

— Katie Glueck (@katieglueck) March 12, 2021
• The US has met and surpassed Biden's initial goal for vaccinations, administering 100 million shots as of today. Not so great news: A new AP-NORC poll confirms what we already suspected—people of color have been taking the hardest hit from the virus and economic downturn.
The federal government has sent out the first batch of $1,400-per-person direct deposits under the Covid-19 relief bill that President Biden signed Thursday https://t.co/18QpWHvQW1

— The Wall Street Journal (@WSJ) March 12, 2021
• The City of Minneapolis has settled a lawsuit with the family of George Floyd who was callously murdered by former officer Derek Chauvin, and will be paying them $27 million—which is thought to be the largest pretrial settlement ever for a civil rights claim.
• Sad celeb news: Jennifer Lopez and Alex Rodriguez—known in gossip circles as "J-Rod" eww—have reportedly split up after four years of dating and two years of engagement.
• In equally sad celebrity news: "WandaVision Star Paul Bettany Reveals He Wore a Fake Butt."
• If you cannot get enough of Dan Savage, then get a LIVE dose of his sexual wisdom in this Saturday's special livestream edition of the SAVAGE LOVECAST! Get your tickets here!
• And now... THE WEATHER REPORT: Another glorious sunny day tomorrow but expect some possible showers on Sunday!
• And finally, for those of you who need TWO versions of Olivia Rodrigo's "Driver's License"... THIS IS A VERY GOOD ONE.

What if Olivia Rodrigo's "Drivers License" was by Blink 182? pic.twitter.com/QEA25fuY3w

— Ali Spagnola (@alispagnola) March 10, 2021