We need your help. The economic fallout of the coronavirus crisis is threatening our ability to keep producing the quality reporting you've come to love. If you're able, please consider making a monthly contribution to the Mercury.
Sponsored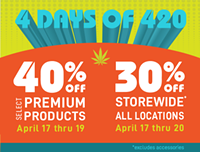 30-40% off Premier Dispensaries April 17-20
Flower, pre-rolls, edibles, carts and more.
These 4 Days of 420 are for you.
Good morning, Portland!
If you're like me, daylight savings might have you feeling a liiiittle groggier than usual this morning. And yet! There's a lot of news to catch up on before the day begins. Let's get to it:
- Thousands of people attended a Sunday vigil in London for Sarah Everard, the 33-year-old woman who was allegedly kidnapped and killed by a member of London's Metropolitan Police. Metropolitan Police officers responded to the vigil with physical, aggressive arrests, seeming to only underscore the threat of law enforcement against women in Britain.
- More than 50 protesters were shot and killed by Myanmar police over weekend, in attempts to suppress the large-scale movement against the country's attempted military takeover. In the words of one Myanmar activist: "The world is upside down in Myanmar."
- Relatable walrus content:

First ever sighting of a walrus in Ireland after it is thought to have drifted across Atlantic after falling asleep on iceberg https://t.co/LKrJinW9un pic.twitter.com/aieS7JEb0c
— Independent.ie (@Independent_ie) March 14, 2021
- Saturday marked the one-year anniversary of Breonna Taylor's death at the hands of Louisville police officers during a forced-entry raid on her apartment. Taylor's boyfriend Kenneth Walker III acknowledged the grim anniversary by filing a federal lawsuit against the Louisville Metro Police Department (LMPD) and the officers involved in the raid, accusing them of violating his constitutional rights.
- The family of George Floyd reached a landmark settlement Friday in its lawsuit against Minneapolis for killing Floyd last May. The $27 million settlement is among the largest in the history of police misconduct litigation. The agreement comes as the trial against Floyd's alleged killer, former Minneapolis officer Derek Chauvin, is set to begin.
- Oscar nominations are out, and they include the most diverse line-up of nominees yet. The announcement makes Viola Davis ("Ma Rainey's Black Bottom") the most nominated Black actress in Hollywood history and Steven Yeun the first Asian American ever nominated for best actor.
- Speaking of Black artists, Beyoncé collected her 28th Grammy Sunday evening, making her the most awarded female musician in Grammy history. Here's what she had to say about it:
Beyoncé breaks record for most Grammys by a female artist https://t.co/PizThLqa8u pic.twitter.com/dSLIjcYb4g
— Los Angeles Times (@latimes) March 15, 2021
- Taylor Swift, meanwhile, became the first woman in Grammy history to collect "Album of the Year" three times.

- Sure, Pope Francis might be kind of cool, but he's still homophobic. On Monday, the Vatican said that Catholic priests cannot bless same-sex marriages since those relationships "cannot be considered licit."
- Miami police shot pepper balls into a group of several hundred spring breakers Friday evening while trying to get crowds of mostly mask-less vacationers to adhere to COVID-19 safety regulations.
- Two members of the Proud Boys are at the center of a federal investigation for their involvement in the January attack on the US Capitol. But, as the New York Times reports, local police departments (including the Portland Police Bureau) had been following—and standing up for—the alleged terrorists for years prior. What gives?
- Portland police used an old tactic to rein in a protest Friday night: Kettling. In a response to alleged vandalism by left-wing protesters downtown, police surrounded a group of at least 100 individuals in a city block, refusing to release them until each person's name and birthdate was recorded. Not only did this move butt up against Portlanders' civil rights, but it appeared to violate a previous court order prohibiting cops from forcing journalists to disperse once officers start cracking down on a demonstration.
I left the kettle because a protester started yelling at me.
Police demanded my name and birthdate, wrote it on a piece of duct tape and gave it to me to put on my chest. Then they photographed me without my mask on. Here's a photo of the officer taking my photo. pic.twitter.com/zTM8QOb6Ae
— Suzette Smith (@suzettesmith) March 13, 2021
- Records released Friday evening by the Portland Police Bureau shine a light on the 911 call falsely reporting City Commissioner Jo Ann Hardesty as the suspect in a minor hit-and-run. Listen to the call and see how police appeared eager to indict Hardesty, despite having any evidence, in their police report here.
- Portland's been looking particularly trashy lately. The Oregonian explains why.
- Portland Public Schools reached a tentative agreement with its teachers union over the weekend that could see the return of in-person instruction as soon as April 1. OPB reports the plan still needs a sign-off from PPS' board and the Portland Association of Teachers membership before moving forward.
- Lastly:
Megan says support local journalism #Grammys pic.twitter.com/uuCc2gslkt
— philip lewis (@Phil_Lewis_) March 15, 2021