Good morning, Portland!
If you're
still
in a foggy post-daylight-savings haze this morning, don't worry—you're not alone!
Sponsored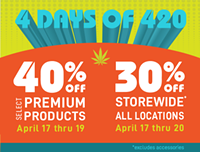 30-40% off Premier Dispensaries April 17-20
Flower, pre-rolls, edibles, carts and more.
These 4 Days of 420 are for you.
Here are the headlines.
• Mayor Ted Wheeler expressed his support Monday for the Portland Police Bureau's (PPB) latest technique to quell protester activity. He was referring to PPB's reinvigorated reliance on a tactic called "kettling," in which officers corral and detain a large group of people under the presumption that they may be involved in criminal activity. Last Friday night, a group of at least 100 individuals were kettled by PPB officers during a march through Northwest Portland's Pearl District.
• The first kids have been vaccinated in a pediatric trial of the Moderna vaccine against COVID-19. As I have famously always said, "I am 16 years old, and I'm here for my trial shot!"
• The Senate voted yesterday to confirm Congresswoman Deb Haaland as the Biden administration's secretary of the interior. Haaland, a member of the Laguna Pueblo tribe in New Mexico, will be the first Native American to serve as a Cabinet secretary. In addition to being Indigenous, Haaland is also a strong environmentalist, meaning she could be effective in protecting public lands against the whims of the fossil fuel industry.
• Wow, so glad to know my taxes are going to subsidize Uber executives' bottom line:
As Uber avoided paying into unemployment, the federal government helped thousands of its drivers weather the pandemic https://t.co/OVNukSiOVD
— The Washington Post (@washingtonpost) March 16, 2021
• In other vaccine news: Concerns over the potential health effects of the AstraZeneca vaccine has severely slowed vaccination efforts across much of Europe. The worry is that the vaccine can cause serious blood clots—but an official with the European Medicines Agency said today that there is "no indication that vaccination has caused these conditions."
• Doctors are seeing a sharp increase in the number of young women who have alcoholic liver disease, a serious medical condition developed when people regularly consume very heavy amounts of booze. In fact, these cases are up 30 percent over the past year. Hmmm, what else has been going on over the past year that may have contributed?
• Classic Ammon:
Anti-government activist Ammon Bundy was arrested in Idaho on Monday after he refused to wear a mask in court, which prevented him from entering and making him a no-show for his own trial, officials say. https://t.co/JoMRXl1hPh
— NBC News (@NBCNews) March 16, 2021
• How are Oregon's tribes faring with the vaccination effort? KGW spoke with four of the state's nine major tribes, who reported that they're getting plenty of doses—but that some tribal members still have an (understandable) mistrust of the US government, and are hesitant to get the shots.
• Headline of the Day: "Mom Allegedly Harassed Daughter's Cheerleading Team 'Rivals' With Deepfakes Depicting Them Drinking, Nude."
• And we'll end today with an "in case you missed it moment" from Sunday night's Grammys—this Megan Thee Stallion and Cardi B performance might be just the thing you need to jerk out of your daylight-savings waking slumber: