Here's
your daily roundup of all the latest local and national news
. (Like our coverage? Please consider
making a recurring contribution to the Mercury
to keep it comin'!)
Sponsored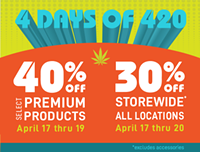 30-40% off Premier Dispensaries April 17-20
Flower, pre-rolls, edibles, carts and more.
These 4 Days of 420 are for you.
IN LOCAL NEWS:
• Mayor Wheeler held yet another press conference yesterday to denigrate those who choose to protest systemic racism and other societal ills, while also enthusiastically supporting the cops' controversial use of "kettling," which many civil rights experts call an unconstitutional means of detention. Our Alex Zielinski has more.
Portland police said kettling protesters last Thursday was preventative. But "future crimes" don't justify mass detention, according to @inafutureage "That's the same logic that led to 'stop and frisk' and broken windows policing."https://t.co/IEEbeQfZGz
— Karina Brown (@karinapdx) March 16, 2021
• Speaking of the cops (and what they definitely should not be doing), those behind the independent probe looking into the patently false report of Commish Jo Ann Hardesty being involved in a hit-and-run may be expanding their investigation into certain members of the Portland Police and their possible chummy involvement with far right-wing groups.
• VERY MUCH RELATED:

Brian Hunzeker, president of the Portland Police Association (PPA) has resigned over the comments he made about City Commissioner Jo Ann Hardesty's falsified role in a hit-and-run last week.
— Alex Zielinski (@alex_zee) March 16, 2021
• Some great pro-choice news: Two months after the long-running Lovejoy Surgicenter closed, a new, independent abortion provider, The Lilith Clinic, is rising up to take its place this coming Friday! Our Blair Stenvick has a lot more detail on this important public health service.
• The very cool movie Sophie June (currently streaming at the Hollywood Theatre) was filmed and cast right here in Portland, and our Chase Hutchinson talks with the director about how this film was made.
⚠️🇺🇸#𝐀𝐋𝐄𝐑𝐓: LARGE FIRE AT OREGON ETHANOL FUEL FACILITY; EVACUATIONS UNDERWAY

📍#Cornelius, #Oregon
Fire personnel on scene now say there is possibility of a large explosion. Residents within a 3 block radius must evacuate according to police. Verifying further details now. pic.twitter.com/GvWmRD1qzV
— Intel Point ALERTS (@IntelPointAlert) March 16, 2021
IN NATIONAL NEWS:
• According to a new intelligence report, Vladmir Putin definitely tried to help Trump in his 2020 presidential campaign (NO SURPRISE), Iran tried to hurt Trump's chances (DIDN'T KNOW THAT!), and despite the insistence of many Trump lackeys, China apparently stayed out of the 2020 election entirely (SURPRISED THEY DID, NOT SURPRISED TRUMP'S MINIONS LIED ABOUT IT).
The US intelligence community said in a landmark report that the Russian government meddled in the 2020 election with an influence campaign "denigrating" President Biden and "supporting" former President Donald Trump https://t.co/DWZ4MPmcYi
— CNN (@CNN) March 16, 2021
• In other SURPRISE, SURPRISE news: Senate Minority Turtle Mitch McConnell is threatening a "scorched earth" response if Dems decide to do away with the filibuster, which if it remains could hamper the Democrats ability to get anything done. Sounds like they're gonna scorch the earth in any case, so... scorch away, a-holes!
Trump Tower staff were reportedly vaccinated under a Chicago program intended to immunize communities of color hardest hit by COVID.

The city health department is "looking into" the vaccination event at Trump Tower, saying staff aren't yet eligible.https://t.co/JH59Kci7Sa
— Kyle Griffin (@kylegriffin1) March 16, 2021
• As Biden's new Secretary of State visits Asia, Kim Yo Jong, the sister of North Korea's leader Kim Jong Un, warned the US against "causing a stink" if it wants to "sleep in peace." My wife issued a similar warning to me just last night! (Thank you, I'll see myself out.)
• RIP to the great actor Yaphet Kotto (Alien, Live and Let Die, Homicide: Life on the Street) who has died at the age of 81.
• Look, I don't watch The Bachelor—because I am desperately trying to cling to the last dying vestiges of my sanity—but apparently SOME REAL RACIST SHIT went down this season, and if you don't care about spoilers, then check out this recap.
• NEWS YOU CAN USE:

How much it'll cost you if you urinate in your airline seat https://t.co/S8gwKWUXyC pic.twitter.com/ampXmEYa7k
— Forbes (@Forbes) March 16, 2021
• HELLO, STONERS! You will be pleased to know that SPLIFF—the short flick film festival about cannabis and all things "stoned"—is kicking off April 16-24 and you can get your tickets NOW. (So hurry up before you forget... because you know you will.)
• And now... THE WEATHER REPORT: Another mostly sunny day tomorrow with a balmy high of 59!
• And finally, this is your official reminder about the hugely talented Michael Winslow (and to watch more Norwegian TV).

So you remember MICHAEL WINSLOW as the guy from the Police Academy movies right?

Well, he was that for sure.
But he was also a whole lot more.

Just check him out here killing it with Led Zeppelin's "Whole Lotta Love" on Norwegian TV.

It'll blow your mind. pic.twitter.com/gImNWOykjw
— Michael Warburton (@mikewarburton) March 15, 2021