Here's your daily roundup of all the latest local and national news. (Like our coverage? Please consider making a recurring contribution to the Mercury to keep it comin'!)
Sponsored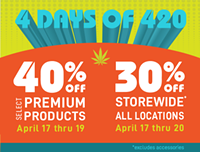 30-40% off Premier Dispensaries April 17-20
Flower, pre-rolls, edibles, carts and more.
These 4 Days of 420 are for you.
In local news:
• The Appeal recently polled likely Oregon voters about criminal justice reform issues—and found that the majority of state voters support repealing mandatory minimum sentence laws, decriminalizing sex work, replacing police with trained first responders, and reducing prison terms for survivors of domestic violence.
• Good news: The Oregon Health Authority has officially confirmed that all adults will be eligible for COVID-19 vaccination by May 1.
• In case you missed it: The president of Portland's cop union stepped down yesterday amid controversy over a false hit-and-run allegation against City Commissioner Jo Ann Hardesty. But it's still not clear exactly why he quit, other than oblique references to a "mistake."
• You may have thought that Portland home prices would have fallen in the last year, what with the pandemic and our city apparently being on fire all the time, and all of that. But fear not! The average Portland home price is now $542,000—up nearly a hundred grand from this time last year.
In national news:
• Legal experts say that the mass shooter in Atlanta—who targeted Asian businesses and killed eight people last night, six of them Asian women—could face hate crime charges. The names of the victims that we know so far: Delaina Ashley Yaun, Paul Andre Michels, Xiaojie Tan, Daoyou Feng, Julie Park, and Hyeon Jeong Park.
• The Internal Revenue Service announced today that the deadline for filing your taxes will be extended until May 17, because honestly, tax returns are the last fucking thing any of us need to be dealing with right now.
• Houseless people are eligible for the $1,400 federal stimulus payments—but it's often hard for them to actually receive them. Here's a guide to help you or someone you love get that stimulus payment while houseless.
• Here are some ways you can support Asian-American and Pacific Islander (AAPI) people, sex workers, and specifically AAPI sex workers in the wake of yesterday's horrific events.
And just for fun:
• You know what you need? A pineapple filled with piña coladas, that's what you need.
• Finally, we'll cleanse the timeline with a little biology lesson on how cats reproduce:
Michosis pic.twitter.com/hJsib0N271

— 🐱 Gatitos que curan tu depresión 🐱 (@gatitos_qctd) March 17, 2021