Good morning, Portland! If you're looking to start your day with some good energy, consider donating to this organization that supports Asian and migrant sex workers.
Sponsored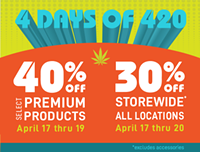 30-40% off Premier Dispensaries April 17-20
Flower, pre-rolls, edibles, carts and more.
These 4 Days of 420 are for you.
Here are the headlines.
• Following remarks from Cherokee County Sheriff's Office Capt. Jay Baker that the Atlanta shooter was simply having "a bad day," and that it wasn't racially motivated, it's been revealed that Baker has shared a racist anti-Asian meme about the COVID-19 pandemic on his Facebook page. Some are now calling into question whether the Sheriff's Office is properly equipped to investigate and prosecute the shootings.
• By the way, if you still think it's possible that the shootings weren't at all related to race, read this piece about how Asian women have been historically hyper-sexualized, meaning you can't unlink anti-Asian racism from misogyny.
this is my best attempt at pronouncing the names we have so far of those murdered in #Atlanta

Delaina Ashley Yaun
Paul Andre Michels
Xiaojie Tan
Daoyou Feng
Julie Park
Hyeon Jeong Park pic.twitter.com/7kwAdoHy69

— Jenny Yang (@jennyyangtv) March 18, 2021
• Yesterday, it was reported that all Oregon adults will be vaccine-eligible by May 1. Now, it turns out the news is even better: The vaccine will be available to minors 16 and older, in addition to adults, by that date.
• A new plan for a Portland Police Bureau (PPB) gun violence task force would involve partnering with federally deputized agents from both the FBI and the Bureau of Alcohol, Tobacco, Firearms and Explosives. Those in favor of the plan—including Mayor Ted Wheeler—say it's necessary for responding to an increase in shootings over the last year.
• With coronavirus restrictions continuing to ease, Providence Park plans to allow a limited number of fans at Thorns and Timbers home games beginning April 9. I, for one, am going to miss the awkward, silent sporting events and televised entertainment we've all become accustomed to over the last year.
• 👀
A letter penned by Dems (including Sen @RonWyden) says an internal report by DHS's legal team identified "significant problems within the intelligence arm of DHS and its involvement in responding to protests in Portland, OR in June and July of last year."https://t.co/gB1m9VRebO

— Alex Zielinski (@alex_zee) March 17, 2021
• A new Danish research report shows that coronavirus re-infections are rare after someone has contracted COVID-19 a first time, and that most people are shielded from re-infection for at least six months. People 65 and older are at the highest risk for re-infection, the study found.
• In case you missed it: Here's a story from last week that dives into the seriously fucked-up history of non-unanimous jury convictions in Oregon—and highlights the uncertain future that those who have been screwed over by the old unconstitutional practice face now.
• And finally:
This Asian-American Woman Has Been Having a Year of Bad Days Without Committing Any Hate Crimes: https://t.co/e2KMdlKq4N pic.twitter.com/IfsmUAItRV

— Reductress (@Reductress) March 17, 2021