Here's your daily roundup of all the latest local and national news. (Like our coverage? Please consider making a recurring contribution to the Mercury to keep it comin'!)
IN LOCAL NEWS:
Sponsored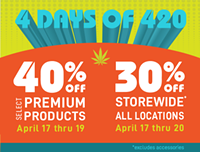 30-40% off Premier Dispensaries April 17-20
Flower, pre-rolls, edibles, carts and more.
These 4 Days of 420 are for you.
• It's been *squints, checks calendar* two full days since Portland Police Association Prez Brian Hunzeker resigned after admitting a serious "mistake" involving the false allegations made against Commissioner Jo Ann Hardesty—but has so far refused to reveal exactly what he did. Maybe he will tomorrow? I would say that's a pretty serious thing if he didn't!
• The family of Kevin Peterson Jr.—the Black man shot in the back a whopping 34 times by Clark County cops during a sketchy drug sting five months ago—is planning on suing, but are currently not saying who will be named in the lawsuit.
"Darvin Zimmerman doesn't know me. The comments that he made about me and my son doesn't reflect who we are as men."

The Peterson family, along with Peterson's partner, Olivia Selto, announced plans to file a wrongful death suit against Clark County.https://t.co/9lmanb8Vmy

— Noelle Crombie (@noellecrombie) March 18, 2021
• In a new Oregon-based poll, the majority of people are in favor of a $17 minimum wage hike, and consider homelessness to be our most pressing crisis. Interestingly, only 11 percent of polled Oregonians had a "very positive" view of Gov. Kate Brown as opposed to "Les Schwab tires" who had a 31 percent "very positive" approval. Sounds like Brown needs to give away a few steaks!
Can Magic Mushrooms Heal Us?@ezraklein writes about psilocybin, its potent potential, its risks, his personal experience, and the voter-approved experiment unfolding in Oregon. https://t.co/tbpmecPnXW

— Mike Baker (@ByMikeBaker) March 18, 2021
• You look like you could use some hot fried chicken. If so, Toki PDX has just what you need—check out Suzette Smith's review in the latest edition of "Takeout Club!"
IN NATIONAL NEWS:
• GOOD VACCINE NEWS: Busy Bee Biden says the US should hit their goal of 100 million people vaccinated by this Friday, weeks ahead of his original goal. Also the administration announced it will be sending millions of doses of the AstraZeneca vaccine to Canada and Mexico (both out of niceness and to influence Mexico to assist the administration with our current border crisis).
Biden will meet with Stacey Abrams on Friday, according to an administration official, who said she's "played a leading role in voting access and voter protection and she will be an important partner in taking action on this important issue moving forward" https://t.co/ihYa1WmD74

— CNN (@CNN) March 18, 2021
• As more details emerge from the racist Georgia shooting spree that left eight people dead including six Asian women, Cherokee County Sheriff's office spokesperson, Capt. Jay Baker, offered a very racist response, excusing the shooter's intentions by saying that he was "simply fed up and at the end of his rope," and taking the shooter's word that he was a sex addict. The office has since apologized for Baker's callous, tone deaf remarks (and he has been removed from this case), but as many opinion writers have pointed out, the US obviously has a long way to go in recognizing how "the intersections of race, gender, class, [influence] the way anti-Asian violence is disproportionately experienced."
• Meanwhile Rep. Grace Meng, who is of Taiwanese descent, castigated racist Republican Rep. Chip Roy of Texas for helping his party put "a bull's eye on the backs of Asian-Americans across this country."
During a House hearing, Rep. Judy Chu and others said former President Trump "stoked" anti-Asian hate by using phrases like "kung flu" and "China plague" in order to shift blame away from his response to the coronavirus pandemic. https://t.co/eM6X1lwsv5

— NPR Politics (@nprpolitics) March 18, 2021
• Related: Teen Vogue editor-in-chief Alexi McCammond has "parted ways" with the magazine after staff members raised concerns about her past derogatory tweets aimed at Asian and gay people.
• The FBI has released 10 new videos showing the "most egregious attacks" on officers by Trump's domestic terrorists during the January 6 Capitol attack, hoping that members of the public will help identify them.
• And I'll just leave this very related headline right here: "Black officer on Capitol rioters: 'They hated us and they hated our skin color'."
• It's starting to get embarrassing, but Dr. Anthony Fauci was once again forced to give a verbal smackdown to Republican Rep. Rand Paul (who has a doctorate in idiocy) whose constant anti-mask rhetoric is probably getting people killed.
• HELLO, STONERS! You will be pleased to know that SPLIFF—the short flick film festival about cannabis and all things "stoned"—is kicking off April 16-24 and you can get your tickets NOW. (So hurry up before you forget... because you know you will.)
• And now... THE WEATHER REPORT: Mostly cloudy tomorrow with scattered showers and high of 53!
• And finally... just a suggestion, but Taylor Swift needs to start doing this once concerts return.

Prince just hitting a quick jumper mid concert 😂 pic.twitter.com/iyvAdgj4XM

— 🍥 (@freezep0p) March 18, 2021