Here's your daily roundup of all the latest local and national news. (Like our coverage? Please consider making a recurring contribution to the Mercury to keep it comin'!)
Sponsored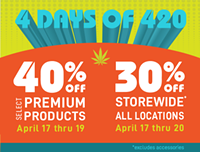 30-40% off Premier Dispensaries April 17-20
Flower, pre-rolls, edibles, carts and more.
These 4 Days of 420 are for you.
In local news:
• Gov. Kate Brown announced this morning that all frontline workers will be vaccine-eligible by April 19—and for some counties and employment types, eligibility comes as soon as next week. The state is still on track for everyone 16 and older to be eligible by May 1.
• Time to channel my inner cable news anchor and tell you to "watch this space":
Portland Mayor Ted Wheeler said Friday on @OPBTOL that a city police officer should be fired if they were responsible for the leak falsely tying Commissioner Jo Ann Hardesty to a hit-and-run.https://t.co/sTHaEd1p75
— Rebecca Ellis (@Rjaellis) March 19, 2021
• Oregon educational leaders are seeking to delay all standardized tests until 2022, arguing that the unavoidable and inequitable setbacks from the COVID-19 pandemic would skew test results poorly. But the US Department of Education has yet to respond to Oregon's request to put off the testing.
• A University of Oregon basketball player is using her platform to highlight the gender inequities in college sports. As someone who is iffy about both sports and gender, I still have no choice but to stan!
Let me put it on Twitter too cause this needs the attention pic.twitter.com/t0DWKL2YHR
— Sedona Prince (@sedonaprince_) March 19, 2021
In national news:
• President Joe Biden and Vice President Kamala Harris met with Asian-American community leaders in Georgia today, following the senseless killing of eight people at Asian-owned spas earlier this week. Biden has been equivocal about linking the murders to anti-Asian misogyny, but also said Wednesday that "Whatever the motivation, I know Asian Americans, they are very concerned, because as you know I have been speaking about the brutality against Asian Americans, and it's troubling."
• A handful of Biden administration staffers have reportedly been fired for smoking pot, and the White House tried to prevent the news from getting out. It's nice to see that at least in this one way, DC elites face the same archaic employment standards as fast-food workers.
• We're finally starting to learn more about the victims of the Atlanta shootings, including Hyun Jung Grant:
The son of a victim in the Atlanta rampage tells Daily Beast about his mom:

— She loved dancing & sushi
— She taught elementary school in Korea before coming to the US
— "She was a single mother of two kids who dedicated her whole life to raising them."https://t.co/IYcLwK0HaX
— Elise Hu (@elisewho) March 19, 2021
• New data from the Transportation Security Administration (TSA) shows that Americans are starting to travel by airplane more and more, after a year of decreased flying due to COVID. However, numbers are still nowhere near as high as they were pre-pandemic.
And just for fun:
• PSSSTTTT: Greetings, weed lovers! If you love or support everything cannabis, then you will not want to miss the upcoming third annual SPLIFF film festival (from the makers of HUMP! and SLAY), streaming right at your gorgeous face starting Friday April 16-Saturday April 24!
• Finally, the dream:
Me and my pals once we all have the vaccine but are still nervous as hell pic.twitter.com/PucGBVilS2

— Michael Metivier (@grouse_hollow) March 18, 2021