Here's
your daily roundup of all the latest local and national news
. (Like our coverage? Please consider
making a recurring contribution to the Mercury
to keep it comin'!)
Sponsored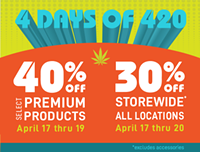 30-40% off Premier Dispensaries April 17-20
Flower, pre-rolls, edibles, carts and more.
These 4 Days of 420 are for you.
In local news:
• It's been two years since a federal appeals court prohibited Oregon and other neighboring states from penalizing individuals for sleeping on public property if there was no alternative shelter available. Yet many Oregon cities, including Portland, still have policies in place that contradict the landmark ruling, allowing homeless residents to continue cycling through local jails and racking up fines. To address that, state lawmakers are now considering a bill that would nudge Oregon jurisdictions to rewrite those policies to avoid costly litigation. But not all homeless advocates support that bill—read more about it from our own Alex Zielinski.
• Following the release of new guidelines from the CDC, Oregon is allowing kids to be spaced three feet apart—rather than six feet apart—during classroom instruction. This ought to make it easier for more schools to reopen in the coming weeks.
• If you like reading journalism-about-journalism, then you'll love this Portland Monthly feature all about how Oregon Public Broadcasting is building up its newsroom, leading the state in news coverage, and dealing with growing pains along the way.
• Good news for my cluelessly devised March Madness pool brackets: The University of Oregon men's basketball team scored an upset win against the University of Iowa, meaning the Ducks will advance to the Sweet 16. U of O's women's team plays South Dakota tonight.
In national news:
• An active shooter opened fire in a grocery store in Boulder, Colorado this afternoon. Multiple injuries have been reported, but the story is still developing, so it's unclear if there are any fatalities.
• An investigation from the National Labor Review Board has found that Amazon illegally interrogated and threatened a warehouse worker who led a strike in Queens during the early days of the COVID-19 pandemic. "Amazon did its best to keep everybody working while simultaneously crushing our effort to fight back," the employee said.
• Fourteen jurors—12 jurors and two alternates—have been selected to serve in the trail against Derek Chauvin for the killing of George Floyd. Opening arguments for the trial are scheduled to begin next week, and it's expected to last about a month.
• An infuriating new poll shows that about a third of registered Republicans believe that their party's elected leaders were behind the recently passed stimulus bill—which passed the Senate a few weeks ago without a single Republican "yes" vote. At least one reason for this misunderstanding: Republican electeds are purposefully misleading their constituents into thinking they supported the bill, which was wildly popular among the American public.
And just for fun:
• From our latest Cocktail To-Go Club: Old Town's Buranko likes to play with color in its to-go cocktails, with creations like the "Pinkitini" and the purple-hued "Butterfly Pea Toddy" and "Midnight Mimosa." Set against the backdrop of their light and plant filled space, the drinks are positively Instagram-worthy. Millennial heaven. You know you want one.
• Hell yeah:
We'd like to show sweet support to those who have received the COVID-19 Vaccine. Starting today, bring your Vaccine Card to a Krispy Kreme shop and get 1 FREE Original Glazed doughnut. No chance to get your Vaccine? This will run thru end of 2021. Info at https://t.co/gWnWhXOKKq pic.twitter.com/UqmDLne5E9
— Krispy Kreme (@krispykreme) March 22, 2021