The Fremont to Skidmore stretch of North Williams has, in recent years, become a bustling hub of sought-after restaurants. On a weekend evening it's not uncommon to see sidewalks full of hopefuls, waiting around for their takeout order or a prized outdoor seating spot.
Sponsored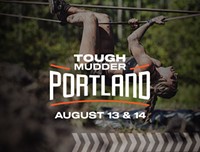 Lock in your summer adventure, Portland. Join us for world famous obstacles over a 5K or 10K distance.
But don't overlook the brightly painted "little restaurant" serving foodie fare in a sweet courtyard set back from the road.
MF Tasty grew out of a supper club Eric and Nicole Gitenstein started up in 2010. By 2016, they had a Portland food cart with a similar concept: The menu changes often. Generally, Friday and Saturday night dinners are the same, but Sunday brings another switch-up for brunch. The tastes tend towards American Southwest in profile, but if you try to pin it down too firmly, all bets are off.
The Gitensteins' ever-changing menu is often no longer than six food items, including desert. (And whatever that dessert it—just get it.) Favorites like the melty Buffalo Cauliflower Wrap or different incarnations of extremely respectable paella (carne asada, mussels, or even octopus in squid ink rice) rotate through.
Sides of mac n' cheese and cornbread are often on the menu, as they have both gathered a legendary status. MF Tasty's cornbread offers roasted poblano peppers and comes slathered in herbed-lime butter and spiced honey. And that Award Winning Chorizo Mac makes fragrant use of garlic, house-made chorizo, and Tillamook cheddar. Vegetarians can ask to have the chorizo left off.
Those varied creations find friendly pairings with the wine and beer MF Tasty picks out to accompany their meals. Like the pineapple kolsch they offered from Pono Brewing—light without just a kiss of pineapple—MF Tasty seeks to bring lesser-known, local names onto your plate.
While I'll generally jump on the protein train every time, a recent MF Tasty trip left me envying my friend's roasted mushroom paella with miso-glazed roasted squash. My own carne asada paella—delightfully charred right down to the seared lime—possessed a bed of rich flavor so strong that the beef seemed to take a back seat.
MF Tasty's street-side courtyard speaks to the little food cart's style of unpretentious class. Sit at either of the picnic tables out front, or duck into the side room—behind plastic sheeting—lit by overhead lanterns. Menu previews go up on their Instagram, day of. But what's the point of having a cart known for its creative, changing palate if you don't let yourself be surprised now and again?
MF Tasty, 3927 N Williams, (602) 740-8861, mftasty.com