Good morning, Portland. Funny story: I'm currently leading the March Madness men's bracket my brother harangued me into partaking in because I just shrugged and put University of Oregon and Oregon State at the top. Please don't fail me now, college basketball teams I have not once watched, not even for a second!
Sponsored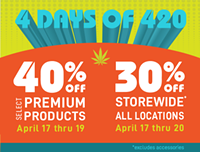 30-40% off Premier Dispensaries April 17-20
Flower, pre-rolls, edibles, carts and more.
These 4 Days of 420 are for you.
This is the first time Oregon and Oregon State have been in the men's Sweet 16 at the same time 🏀 @OregonMBB | @BeaverMBB pic.twitter.com/4fIfXbHJra

— ESPN (@espn) March 22, 2021
And here are the headlines.
• A mass shooting at a grocery store in Boulder, Colorado left 10 people dead yesterday. It's the seventh mass shooting the US has seen in seven days.
• New mutations of the coronavirus, and trouble on the vaccine front, have prompted German Chancellor Angela Merkel to put Germany into a new lockdown, with Merkel saying "We are now basically in a new pandemic." I! Don't! Like! To! Read! That!
• In case you missed it yesterday: We've got a deep-dive into a pair of bills in the Oregon Legislature that aim to set new standards for when cities can and can't tell unhoused people to stop camping on public property—but the bills have different goals and different supporters. The more conservative one will likely prevail.
• Thirteen counties in Oregon have been given the go-ahead to start loosening their vaccine eligibility requirements, as state officials have confirmed that those counties are ahead of schedule with their vaccinations. None of those counties are in the Portland Metro area, so don't get any funny ideas!
• Different president, same disgusting shit:
Photos taken by a member of Congress reveal the crowded conditions unaccompanied immigrant kids are held in at the border https://t.co/HK3193WkU9 pic.twitter.com/QXmjqOt86G

— BuzzFeed News (@BuzzFeedNews) March 22, 2021
• After some recent good news about the effectiveness of the AstraZeneca vaccine, US health officials are now questioning whether those results are based on accurate and up-to-date information. The lack of clarity around this means that the new vaccine probably won't be used in the US anytime soon.
• An artist in Wuhan, China, is using her art to commemorate the city's lockdown during the start of the COVID-19 pandemic—which only lasted 76 days until the virus was under control there. "What I see is the unity of our city, our nation. I find that I am really very proud of being a Chinese," the artist, Yang Qian, said.
• And finally: Which Mister Rogers cardigan do you feel like today?
happy birthday Mister Rogers. here's every color of cardigan he wore on the show presented in chronological order#rstats pic.twitter.com/DJBNcxZRTv

— Owen Llewellyn Henry Jean Phillips (@owenlhjphillips) March 20, 2021