Here's your daily roundup of all the latest local and national news. (Like our coverage? Please consider making a recurring contribution to the Mercury to keep it comin'!)
Sponsored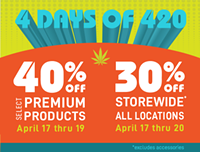 30-40% off Premier Dispensaries April 17-20
Flower, pre-rolls, edibles, carts and more.
These 4 Days of 420 are for you.
In local news:
• In yet another sign of positive progress on the vaccine front, the amount of COVID-19 vaccine doses headed to Oregon pharmacies has almost doubled in the last couple weeks. Get ready for a lot of Walgreens selfies to hit your social media feeds in weeks to come!
• The Multnomah County Board of Commissioners has appointed Andrea Valderrama to serve as the newest lawmaker representing East Portland's District 47 in the Oregon Legislature. Valderrama, a Democrat who currently works as the policy director for the ACLU of Oregon, will replace the office that was vacated by Rep. Diego Hernandez on March 15. Hernandez, a Democrat, announced his resignation in February after an internal investigation found he had created a hostile workplace environment for women at the Capitol.
• The president of Oregon State University (OSU), F. King Alexander, is resigning. The move comes after a report showed that Alexander ignored allegations of sexual misconduct by a football coach at Louisiana State University, where Alexander worked before coming to OSU.
• Both the men's and women's teams for OSU and the University of Oregon are undefeated so far in this year's March Madness tournament.
In national news:
• The victims of yesterday's mass shooting in Boulder include a 30-year grocery store employee, a dedicated father, and a police officer. We're still waiting on more info about all of the 10 people who lost their lives yesterday.
• Following the shooting, Biden is calling for legislation that will "ban assault weapons and high-capacity magazines" in the US. (I'm guessing militarized police forces will get to keep theirs, of course.)
• Senator Tammy Duckworth has delivered an ultimatum to Biden: She won't vote to confirm any more of his "non-diversity" candidates (read: straight, cis, able-bodied white guys) until he starts nominating more Asian-Americans to serve in his administration.
• Meanwhile, Georgia Senator Raphael Warnock is leading the charge to get rid of the filibuster—the Republicans' best tool to stalwart Democrats' agenda in congress—and he's starting to make his case directly to Biden. We'll see what happens!
And just for fun:
• MF Tasty's ever-changing menu is often no longer than six food items, including desert, but that short list is packed with flavor. Read more in the latest Takeout Club from our friend Suzette Smith.
• Finally: a wholesome, old-fashioned viral story about a guy finding shrimp tails in his Cinnamon Toast Crunch.
Ummmm @CTCSquares - why are there shrimp tails in my cereal? (This is not a bit) pic.twitter.com/tTjiAdrnVp
— Jensen Karp (@JensenKarp) March 22, 2021