Here's
your daily roundup of all the latest local and national news
. (Like our coverage? Please consider
making a recurring contribution to the Mercury
to keep it comin'!)
Sponsored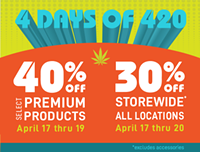 30-40% off Premier Dispensaries April 17-20
Flower, pre-rolls, edibles, carts and more.
These 4 Days of 420 are for you.
IN LOCAL NEWS:
• Today in "Well, that's fucking infuriating": So the Portland Police used force on mostly peaceful protesters a whopping 6,000 times last summer, and are now trying to blame the protests for refusing to adequately report these same uses of force. (One solution might be STOP USING SO MUCH UNNECESSARY FORCE.) In any case, check out this fucking infuriating story from our Alex Zielinski.
The city suggests that Portland police had no option *but* to use unusually high amounts of force against the public during the largely peaceful demonstrations.

This excuse doesn't sit well with DOJ.
https://t.co/Aw01u9JYV7
— Alex Zielinski (@alex_zee) March 24, 2021
• Meanwhile, today in "whoopsy-daisy": The Oregon Health Authority sent out notifications to 11,000 people saying they could now make appointments to get the vaccine... except! None of them are eligible yet. They're going to go ahead and honor those appointments, but WHOOPSY-DAISY.
JUST IN: A spokesman for the Oregon Health Authority says "a glitch" led the agency to invite approximately 11,000 people who aren't yet eligible for a COVID-19 vaccination to schedule an appointment this week. https://t.co/YBV4yVBznS
— OPB (@OPB) March 24, 2021
• A critical new report from an outside auditor says that if the Department of Human Services and Oregon Health Authority had done a better job of planning on how they would cooperate during the early months of the pandemic, fewer long-term care residents would have died from the coronavirus.
• An investigation has discovered that a waste company in rural Oregon is guilty of illegally burying 2.5 million pounds of radioactive fracking waste—but the Oregon Department of Energy has decided to leave it there and monitor it rather than dig it all back up as it will be safer for the landfill workers. All together now: UNNNNGGHHHHHH.
• Our Blair Stenvick visited the new dinosaur exhibit at the recently reopened OMSI, and discovered some similarities between their demise and our woe-filled days. (It's less depressing that I'm making it sound, so check it out!)
IN NATIONAL NEWS:
• Faced with an immigration challenge at the border (that Trump exacerbated, btw!), Busy Bee Biden has tasked Veep Kamala Harris with curbing the flow of unaccompanied minors and developing a longterm plan for addressing the root causes of the problem.
.@ThePlumLineGS says VP Harris' assignment may "help shift part of the conversation away from the media-centric idea that the sum total of this 'crisis' is what's happening at the border, and focus it on the deeper causes of these migrations." https://t.co/jag6Yq96el
— Matthew Gertz (@MattGertz) March 24, 2021
• Following on the heels of Monday's mass shooting at a Colorado supermarket that left 10 dead, it's important to remember that while there may have been fewer massacres of this sort during 2020, last year was the deadliest year for gun violence in decades, killing a mind-boggling 20,000 people.
Atlanta police detain man who walked into a Publix Supermarket with five guns and body armor https://t.co/Zd3tQ6bTDb
— CNN Breaking News (@cnnbrk) March 24, 2021
• Congratulations to Rachel Levine who will be Biden's assistant Secretary of Health, and the first transgender person to win senate confirmation!
• Today Senate Democrats began pushing the House's huge overhaul of voting rights in an effort to stop GOP-led states across the nation from keeping voters away from the ballot box, while keeping themselves in office. Example: Republican Sen. Cindy Hyde-Smith explained why people should not be allowed to vote on Sundays: "God." (See? Even God doesn't want them in office!)
• According to the Feds, dumb-butt shitbird militia group, the Oath Keepers, formed an alliance and made plans with feckless, polo-wearing butter-dicks, the Proud Boys, to attack the nation's capitol on January 6 and were allegedly "prepared to do whatever was necessary to stop the certification" of Biden's election victory.
NEW: The Oath Keepers have one great, shining hope: a crowd-funding effort spearheaded by a lawyer who recently tried to dissolve Congress and reinstall Trump using a lawsuit that cited politics from 'Lord of the Rings' https://t.co/kDPRZ17F8b
— The Daily Beast (@thedailybeast) March 24, 2021
• In an interview, braying Republican whack-a-doodle/conspiracy theorist Rep. Marjorie Taylor Greene compared her 12-hour suspension from Twitter to "serving a prison sentence." Can't wait to see what she compares her eventual real-life prison sentence to!
• HELLO, STONERS! You will be pleased to know that SPLIFF—the short flick film festival about cannabis and all things "stoned"—is kicking off April 16-24 and you can get your tickets NOW. (So hurry up before you forget... because you know you will.)
• And now... THE WEATHER REPORT: Mostly cloudy with decreasing showers tomorrow and a high of 52!
• And finally... dang. If I knew all of 'em were gonna be approved, I would've invented a vaccine, too.

If the Covid-19 Vaccines interview for a job @LateNightSeth pic.twitter.com/rXYMsmcSYw
— Jeff Wright (@JeffRightNoww) March 23, 2021