Here's your daily roundup of all the latest local and national news. (Like our coverage? Please consider making a recurring contribution to the Mercury to keep it comin'!)
IN LOCAL NEWS:
Sponsored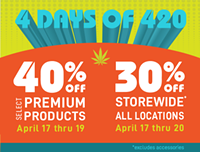 30-40% off Premier Dispensaries April 17-20
Flower, pre-rolls, edibles, carts and more.
These 4 Days of 420 are for you.
• Portland City Council has agreed to loosen their zoning rules around where houseless folk can and cannot set up temporary residence, but agree that public parks are off limits. (That includes golf courses, which is fucking ridiculous for a multitude of reasons... but primarily because it's already an insane use of space, water, and money that's solely for the benefit of a relatively small number of Portlanders. COME AT ME, GOLFERS!)
The DA met with the mother of Patrick Kimmons, a black man killed by police in 2018(full story below)

In 2018 a grand jury found police acted in self defense.

The DA says Oregon law precludes them from re-submitting the case to a grand jury. https://t.co/51tv3ph5qU pic.twitter.com/gMR6oYqxmY

— Sergio Olmos (@MrOlmos) March 25, 2021
• Portland Police Chief Chuck Lovell says he is "ultimately responsible" for the brazen attempts by his officers to punish progressive Portland officials (like DA Mike Schmidt and Commissioner Jo Ann Hardesty) for their views on social justice. Currently under investigation are charges that his police officers doxxed Schmidt by publishing his home address as well as advised a neighborhood association to vote him out of office, and leaked false information about a hit-and-run Hardesty wasn't even involved in. No wonder the cops are too busy to respond to 9-1-1 calls!
• A state auditing division has released its report about Oregon's COVID-19 response, particularly in nursing homes and memory care facilities, and the diagnosis is... not great. There's missing data about how many residents and staff members have been properly vaccinated, death rates were higher in memory care residences than rest homes, and these types of facilities are ill-equipped to prevent future viral outbreaks.
Raptors are trading Norman Powell to the Blazers for Gary Trent and Rodney Hood, per @wojespn pic.twitter.com/vewgv2sCXY

— Bleacher Report (@BleacherReport) March 25, 2021
• It's stew weather! And our Suzette Smith found a great West African food cart in Sellwood that's cooking up the stews of your dreams. Check out the newest edition of "Takeout Club!"
IN NATIONAL NEWS:
• Busy Bee Biden faced reporters today for his first press conference as president, and said the following: 1) He'll support getting rid of the filibuster if obstructionist Republicans keep trying to obstruct his agenda. 2) He promised more transparency on his efforts to control the border crisis when his new policies in place. So when will that happen? He doesn't know. 3) Biden has set a new vaccine goal of 200 million shots in arms in 100 days, and says we're well on track already. And 4) he answered a bunch of—frankly—unnecessary questions like "Are you going to run again in 2024?" His answer was "yes, as of now" but c'mon, White House Press Corps! READ THE NATIONAL ROOM, ALREADY.
• Meanwhile Senate Majority Leader Chuck Schumer trotted out the Democrats' early accomplishments in getting relief to a COVID-stricken nation, while also pushing bold future plans which include legislation to curb violence against the Asian community, restoring voting rights to minorities, and taking decisive action on gun control. In response, Republicans said, "We didn't hear what he said, but we hate all those ideas."
Republicans are horrified that people will be able to vote. https://t.co/popmZ0WJ2I

— Brian Tyler Cohen (@briantylercohen) March 25, 2021
• Speaking of utterly corrupt Republicans, lawmakers in Georgia have passed a voting measure expressly intended to stop people—specifically minorities—from voting, which includes curtailing ballot drop boxes, challenging voter eligibility, and more. (Why don't they just save everybody time and elect Putin governor?)
Republicans want to make it very, very easy to buy a gun and very, very hard to vote.

— Jennifer 'pro-voting' Rubin (@JRubinBlogger) March 24, 2021
• If you've been following the drama of the giant container ship that's blocking up the Suez Canal, then grab a snack and put on some comfy pants, because it's likely to be stuck there for weeks.
• The CEOs of Facebook, Twitter, and Google were on the receiving end of scathing criticism from Congress over their refusal to properly police their sites and allow racism, election misinformation, and political extremism to flourish on their platforms. As usual, no one said a word about Zuckerberg's weird haircut.
• Related: Way to go, buttholes! You finally drove the great Chrissy Teigen off Twitter.
• SAD, SAD, SAD: The great and absolutely hilarious Jessica Walter (Arrested Development, Archer) has died at the age of 80.
RIP to legendary Jessica Walter aka Mallory Archer pic.twitter.com/N6Mz29D50E

— Chelsea. (@charmdiddy) March 25, 2021
• HELLO, STONERS! You will be pleased to know that SPLIFF—the short flick film festival about cannabis and all things "stoned"—is kicking off April 16-24 and you can get your tickets NOW. (So hurry up before you forget... because you know you will.)
• And now... THE WEATHER REPORT: Mostly sunny skies tomorrow and a balmy high of 55!
• And finally, I'm sorry but I cannot and will not ever get enough of Lucille Bluth. Rest in peace, Jessica.

Lucille Bluth once said.... pic.twitter.com/36SH9hZ4FO
— out of context arrested development (@casualarrested) September 10, 2020