We need your help. The economic fallout of the coronavirus crisis is threatening our ability to keep producing the quality reporting you've come to love. If you're able, please consider making a monthly contribution to the Mercury.
GOOD MORNING, PORTLAND! Baby, I just don't get it. Do you enjoy being hurt? I know you smelled the perfume, the make-up on his shirt. LET'S GO TO PRESS.
Sponsored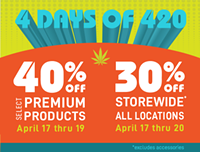 30-40% off Premier Dispensaries April 17-20
Flower, pre-rolls, edibles, carts and more.
These 4 Days of 420 are for you.
IN LOCAL NEWS:
• The Oregon Senate voted to push a bill to the House that would restrict gun owners from bringing their weapons into the capitol building and other state facilities. You can probably guess which morally corrupt party was overwhelmingly against it and cried like babies.
• Five of the six Clark County deputies who were recently involved in the shootings of Black men—including Kevin Peterson Jr. and Jenoah Donald—have already returned to work in their previous assignments, even though the investigations are still underway.
Five out of six Clark County Sheriff's Office deputies involved in recent killings of Black men returned to work less than a month later. https://t.co/nblrG3L7zV

— Troy Brynelson (@TroyWB) March 25, 2021
• Portland Police Chief Chuck Lovell says he is "ultimately responsible" for the brazen attempts by his officers to punish progressive Portland officials (like DA Mike Schmidt and Commissioner Jo Ann Hardesty) for their views on social justice. Currently under investigation are charges that his police officers doxxed Schmidt by publishing his home address as well as advised a neighborhood association to vote him out of office, and leaked false information about a hit-and-run Hardesty wasn't even involved in. No wonder the cops are too busy to respond to 9-1-1 calls!
• Did you see streaks of light flashing across the Portland sky last night? You probably weren't high! Or maybe you were, but experts believe the light show was actually remnants of a SpaceX Falcon 9 rocket that failed to stay in orbit.
Just caught a meteor shower on camera?? pic.twitter.com/dNCbFoaLOD

— vampire enthusiast (@vampyreparty) March 26, 2021
• If you need to scrub this week off your exhausted brain, get some help from Jenni Moore's "Refresh Playlist," featuring the week's newest music from local and national artists!
IN NATIONAL NEWS:
• After being thoroughly embarrassed by their failed "Stop the Steal" campaign to keep Trump in office, bonehead far-right extremists are back at it again with a new, and even more stupid campaign: "Covid-19 Vaccines Are Weapons of Mass Destruction."
• Today in "Utterly Corrupt Republicans": Lawmakers in Georgia have passed a voting measure expressly intended to stop people—specifically minorities—from voting, which includes curtailing ballot drop boxes, challenging voter eligibility, and even criminalizing offering water to people standing in line. Lawsuits are already being filed to overturn this obviously bullshit and racist legislation.
Republicans lost presidential and senatorial elections in Georgia so they changed the rules to make it harder for black people to vote. It's no more complicated than that. The law doesn't make it harder to cheat; it is a form of cheating, a word that understates the malice of it. https://t.co/cnRWpp6czI

— Adam Serwer 🍝 (@AdamSerwer) March 25, 2021
• Oh, but it gets worse: Georgia state troopers arrested Black woman/state legislator Rep. Park Cannon and dragged her out of the capitol building for the crime of knocking on the governor's door as he signed the anti-voting legislation into law. NOT. A. GOOD. LOOK.
Rep. Park Cannon knocked on the door where Gov. Brian Kemp was signing the Georgia GOP's new, extreme voter suppression bill.

In response, Georgia state police handcuffed her, hauled her from the state Capitol, and charged her with two felonies. https://t.co/dPJlskTst3

— VICE News (@VICENews) March 26, 2021
• A wave of especially dangerous tornadoes swept through Alabama and Georgia yesterday, killing at least six.
• Because they have nothing better to do than to stigmatize children, Arkansas Republicans passed an especially cruel law that will ban transgender girls from competing on school sports teams that are consistent with their gender identity.
• You hate to see it: Fox News is getting hit with ANOTHER defamation suit by a voting machine company—this time for $1.6 billion—for their role in spreading malicious voter fraud lies during the election.
• The CEOs of Facebook, Twitter, and Google were on the receiving end of scathing criticism from Congress over their refusal to properly police their sites and allow racism, election misinformation, and political extremism to flourish on their platforms. As usual, no one said a word about Zuckerberg's weird haircut.
Happy Birthday to me, everyday is a celebration! pic.twitter.com/dfzYPg8CTu

— Ms. Ross (@DianaRoss) March 26, 2021
• RIP Larry McMurtry, the novelist and screenwriter who wrote Lonesome Dove and The Last Picture Show, who died at the age of 84.
• HELLO, STONERS! You will be pleased to know that SPLIFF—the short flick film festival about cannabis and all things "stoned"—is kicking off April 16-24 and you can get your tickets NOW. (So hurry up before you forget... because you know you will.)
• And now... THE WEATHER REPORT: Mostly sunny skies today and a balmy high of 55!
• And finally, pushing into the weekend like... (Crank the sound on this one!)

Timeline cleanser... pic.twitter.com/Kr7bKDDZdn

— Rex Chapman🏇🏼 (@RexChapman) March 25, 2021