We need your help. The economic fallout of the coronavirus crisis is threatening our ability to keep producing the quality reporting you've come to love. If you're able, please consider making a monthly contribution to the Mercury.
Sponsored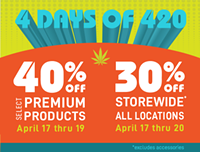 30-40% off Premier Dispensaries April 17-20
Flower, pre-rolls, edibles, carts and more.
These 4 Days of 420 are for you.
Good morning, Portland! I hope you got a taste of that Saturday sunshine, because today will remain gray, drizzly, and in the low 50s. (We have a 70-degree Wednesday on the horizon, though, so hold tight). Let's get into the weekend's news:
- On Saturday, Myanmar's military police, called the Tatmadaw, killed more than 110 people (including children as young as 5) attending protests against the country's military coup. On Sunday, police killed more civilians who were mourning those the Tatmadaw murdered the day before. The New York Times interviewed several Tatmadaw officers to understand the horrifying dynamics of this "bred to kill" police force. It's worth your time.
- An attack a Mozambique town by Islamist militants has left dozens injured, several dead, and at least 50 people unaccounted for. The ambush occurred in the town of Palma, home base to a multibillion-dollar gas project that, if halted, could hobble the African country's economic stability.
- To offer a break from this morning's heavy news, here's a moment with our lord/savior Maya Rudolf as Kamala Harris:




- The trial of Derek Chauvin, the former Minneapolis cop charged with killing George Floyd, is set to begin this morning. The entire trial will be livestreamed; you can watch today's opening statements here.
- As the country attempts to re-open after the darkest months of the pandemic, the White House is partnering with private businesses to develop some type of "vaccine passport" to work as proof of vaccination. Seems hackable?
- A massive cargo ship was finally un-stuck from the Suez Canal today, marking the end of a six-day blockage that had the potential to disrupt the global economy. [If I was a dad, I would insert a poop joke here].
- Locally-sourced boat blockage news:
It isn't on quite the same scale as the Suez Canal — but downtown drivers in Portland now have a boat blockage to call their very own.

Full story: https://t.co/neVj7ZMjvA

— Zane Sparling (@PDXzane) March 28, 2021
- It's been six months since the Alameda Fire ripped through the Southern Oregon's Jackson County, and hundreds of families are still without permanent housing. OPB reports on how the fire's survivors are feeling abandoned by local and federal government supports they were told would help.
- A gaggle of Proud Boys and Trump supporters rallied in Salem on Sunday, where they were met by more than 100 anti-fascist counter-protesters. Antics ensued.
-Tonight is the first opportunity for the public to offer its input on Portland's 2021-2022 city budget. To chime in, follow along, or get a refresher on why all of this matters, check out the Mercury's handy guide.
- Beloved children's book author Beverly Cleary died Friday at age 104 (!!!). Cleary spent much of her childhood in Portland, and she chose to set her famous series featuring Ramona Quimby on Northeast Portland's Klickitat Street. (I'm more a "The Mouse and the Motorcycle" fan, but will always pour one out for Ramona).
Fans of Beverly Cleary left flowers on the Ramona Quimby statue at Grant Park tonight after news that the beloved author had died the day before hit social media.

Photo by @bethnakamura pic.twitter.com/aTNtNjmnWM

March 27, 2021
- Lastly, please find time to read this thoughtful piece by Mercury contributor Janey Wong about how to make space for Asian American communities on the heels of the horrific Atlanta shootings.
In her words: "Quite frankly, I don't need or want to hear another person tell me 'I'm so sickened and disgusted about this.' That much should be obvious, and if the last year of racial reckoning hasn't pushed us past this point, nothing is ever going to change. Tell me what. you're. doing. about. it."