We need your help. The economic fallout of the coronavirus crisis is threatening our ability to keep producing the quality reporting you've come to love. If you're able, please consider making a monthly contribution to the Mercury.
GOOD MORNING, PORTLAND! We used to be crazy in love. Can we go back to how it was? When did you get too comfortable? 'Cause I'm too good for that, I'm too good for that. LET'S GO TO PRESS.
Sponsored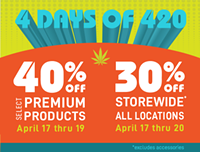 30-40% off Premier Dispensaries April 17-20
Flower, pre-rolls, edibles, carts and more.
These 4 Days of 420 are for you.
IN LOCAL NEWS:
• An Oregon man who had attacked a journalist during a right-wing demonstration at the statehouse has now been arrested for (surprise!) attacking officers and participating in the domestic terrorist insurrection on January 6 at the nation's capitol.
In the past, Portland's city budget hearings looked like hundreds of people crowded into a gym, holding signs, with at LEAST 50 folks giving wide-ranging testimony. At tonight's first public hearing on the budget, less than 10 people were given the opportunity to speak.

— Alex Zielinski (@alex_zee) March 30, 2021
• The Oregon Psilocybin Advisory Board will hold its first meeting this week, and is tasked with figuring out how therapeutic psilocybin use should work—something no state has done before. Our Blair Stenvick has a fascinating preview of what they'll be tackling over the next two years.
• After a sweet run, the Oregon State basketball team was defeated and booted out of the NCAA Men's Tournament after falling to Houston, 67-61.
IN NATIONAL NEWS:
• After four years of Trump appointing right-wing, unqualified federal judges, President Biden is trying to balance the scales, starting with his slate of diverse judicial nominees, three of whom are Black women.
Republican Matt Gaetz has privately told confidants he's seriously considering not seeking re-election and possibly leaving Congress early for a job at Newsmax.https://t.co/VftTyEJTvy

— Kyle Griffin (@kylegriffin1) March 30, 2021
• Yesterday marked day one of the Derek Chauvin murder trial—the former Minneapolis police officer who killed George Floyd by brutally kneeling on his neck for (what we now know) was more than nine minutes. The prosecution showed disturbing video of the killing, bystanders gave chilling testimony, and a martial arts expert testified that the move Chauvin used on Floyd is called a "blood choke"—the purpose of which is to cut off air flow to the victim. Today even more witnesses to George Floyd's murder will testify.
Powerful: the witness on the stand now said he called the police on Derek Chauvin and the other officers because he believed he witnessed a murder, and because he saw "no feeling ... no response" from Chauvin and the other officers on the scene. #ChauvinTrial

— Joy-Ann Pro-Democracy & Masks Reid 😷 (@JoyAnnReid) March 30, 2021
• COVID-19 cases are on the rise again, and the CDC is predicting "impending doom" if Americans don't re-tighten basic safety measures such as WASHING YOUR DAMN HANDS, WEARING YOUR DAMN MASKS (which is what Biden is telling states to do), and KEEPING YOUR DAMN DISTANCE.
• Another bad day for conspiracy theorists: According to an investigative report filed by a team of World Health Organization experts, the original coronavirus almost certainly jumped from animals to humans, and it was "extremely unlikely" that it was leaked from a lab.
• The NYPD are searching for a man who attacked and kicked a 65-year-old Asian woman, as witnesses watched but didn't intervene. If you haven't already, now is a good time to read Janey Wong's emotionally stirring open letter to the AAPI community and allies.
• Best headline of the day so far (at least I thought so): "Church membership in the U.S. has fallen below the majority for the first time in nearly a century."
corporate ... communism ... https://t.co/bzTeag6lbN

— Philip Bump (@pbump) March 30, 2021
• HELLO, STONERS! You will be pleased to know that SPLIFF—the short flick film festival about cannabis and all things "stoned"—is kicking off April 16-24 and you can get your tickets NOW. (So hurry up before you forget... because you know you will.)
• And now... THE WEATHER REPORT: Expect a nice sunny day and a balmy high of 56!
• And finally, if I were a kid seven years ago, this would be me, 100 percent!

Arianators: pic.twitter.com/XwTqhduaAs
— 𝓑 (@MonsterBedir) March 29, 2021