Here's
your daily roundup of all the latest local and national news
. (Like our coverage? Please consider
making a recurring contribution to the Mercury
to keep it comin'!)
Sponsored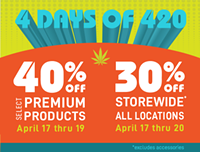 30-40% off Premier Dispensaries April 17-20
Flower, pre-rolls, edibles, carts and more.
These 4 Days of 420 are for you.
In local news:
• Joe Biggs—a leader of the Proud Boys who's been indicted for his role in the January 6 attack on the US Capitol—had a mutually beneficial relationship with law enforcement groups in the Portland region, according to recent court filings. Biggs helped orchestrate several recent Proud Boys protests in Portland.
• Human Rights Watch, an international human rights organization, is now urging Oregon Attorney General Ellen Rosenblum to overturn felony convictions that stemmed from the state's uniquely archaic and unconstitutional old rule that allowed nonunanimous jury decisions. (You can read more about the real-world implications of those split-jury convictions here.)
• After a year of historic racial justice protests and economic upheaval, Portland's Alberta Neighborhood may be due for another change. The goal: to make NE Alberta Street, and its surrounding area, accessible and welcoming again for front-facing Black businesses and cultural events. "People often say 'displacement and gentrification' like it's a done deal, a death sentence. But it doesn't have to be," one business owner told the Mercury.
• In case you missed it yesterday: Measure 109, passed By Oregon voters last year, provides the broad framework for how Oregon's psilocybin program will work. But there is still much work to do before it goes into effect in 2023. Questions remain about what the facilitator requirements will be, how to best ensure patient safety, and how to make the program accessible and affordable for all Oregonians. And because Oregon is the first state to attempt this, there's no obvious roadmap to follow.
In national news:
• It's the second day of the trial against Derek Chauvin, the ex-cop who killed George Floyd last summer. Witnesses have been recounting the gut-churning details of the events they saw—including the man who called 911 after watching an ambulance take Floyd's body away. "I believe I witnessed a murder," the man said in court today. "I felt the need to call the police on the police."
• Good news: A growing amount of scientific research suggests that COVID-19 vaccines are perfectly safe for pregnant people to get, and the vaccines might even help inoculate the baby against the coronavirus once it's born.
• It looks like we can expect an important federal court ruling on DACA—the law that allows first-generation immigrant "dreamers" to live securely in the US without fear of being deported—next month. A group of Republican states are suing to have the law struck down, as President Joe Biden considers introducing new legislation that would offer more protections to immigrants without documentation.
• The US Department of Justice is reportedly investigating Republican Rep. Matt Gaetz—one of the lowliest, most shit-peddling Trump supporters in Congress—for a possible sexual relationship with a teenager. Who could have seen that coming?
And just for fun:
• Here's why you might want to skip the new Godzilla vs. Kong movie.
• You know you've been living through a global pandemic for an entire year when...
okay fuck off pic.twitter.com/bEI68dNvSF
— Jess Bergman (@jesslbergman) March 30, 2021