We need your help. The economic fallout of the coronavirus crisis is threatening our ability to keep producing the quality reporting you've come to love. If you're able, please consider making a monthly contribution to the Mercury.
GOOD MORNING, PORTLAND! You don't let him walk over your heart, I'm tellin' you. Girl, I can tell you've been crying and you needing somebody to talk to. LET'S GO TO PRESS.
Sponsored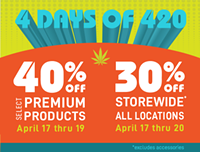 30-40% off Premier Dispensaries April 17-20
Flower, pre-rolls, edibles, carts and more.
These 4 Days of 420 are for you.
IN LOCAL NEWS:
• Well, well, well, what's this? According to recent court filings, Joe Briggs, a Proud Boys leader who's been indicted for his role in the January 6 domestic terrorist attack on the US Capitol, has had a very chummy relationship with "both local and federal law enforcement personnel stationed in Portland, including the FBI's Portland Field Office." Our Alex Zielinski has more!
Fond memories from Joe Biggs' first big Proud Boy rally in Portland (August 2019) https://t.co/w4zUph8IRo

— Alex Zielinski (@alex_zee) March 31, 2021
• After telling police only two weeks before that a man that entered her homeless encampment tent and threatened her with a gun, this same woman has been found shot to death.
This Trans Day of Visibility, stop being an ally and start being an activist. Its not enough to tell trans people you support and love them, you actually have to tell cis people that too - by taking action to make life for trans people easier. Our hands are full just surviving.

— Liam (@LiamDel) March 31, 2021
• Is it possible for gentrification to be reversed? Abe Asher takes a look at a group who is trying to do just that on NE Alberta, where Black people have been pushed out of the area, and efforts are being made to make this situation right.
• The state of Oregon plans to put $50 million toward helping businesses in the state pay back the rent they've owed during the pandemic—and more help is on the way next month.
IN NATIONAL NEWS:
• Busy Bee Biden will be introducing his new $2 trillion infrastructure plan designed to create millions of new jobs while battling climate change... and he expects wealthy corporations to pony up and pay for it.
Biden is planning to announce his infrastructure plan today. A list of everything in it:https://t.co/GMAISKBIbo

— NYT Graphics (@nytgraphics) March 31, 2021
• In the Derek Chauvin trial, a firefighter who gave emotional testimony describing how she was blocked by cops from helping George Floyd as he was suffocating underneath Chauvin's knee, is expected to return to the stand today. That gulping sound you hear is Chauvin's lawyers realizing their client is (rightly!) in a shit-load of trouble.
• According to studies in which kids as young as 12 were given the coronavirus vaccine, the Pfizer dose is said to be not only safe, but 100 percent protective—which is good news for getting children safely back into school by fall.
"The suspect, 38-year-old Brandon Elliot, was convicted of murdering his own mother back in 2002, according to a police spokesperson." https://t.co/WS4HQGHPtj

— Franklin Leonard (@franklinleonard) March 31, 2021
• You're not surprised to see it: One of Trump's slimiest toads, Florida Rep. Matt Gaetz, is being investigated for allegedly having a sexual relationship with a 17-year-old girl and traveling with her across state lines which, if true, is... *squints, checks notes*... a violation of federal sex trafficking laws and a felony. (The background of this story, which springs from one of Gaetz' even slimier buddies, is absolutely bonkers and you should check it out.)
Matt Gaetz out here allegedly fucking kids but y'all are mad at Lil Nas X for dancing in a Halloween costume.

— Akilah Hughes (@AkilahObviously) March 30, 2021
• Two Capitol Police officers who were injured in the domestic terrorist attack on January 6 are suing loser Donald Trump for suffering "physical and emotional injuries" as a result of the former president inciting the riot.
Remember this every time tech platforms say they couldn't possibly crack down on misinformation. https://t.co/Bys3pEe8fy pic.twitter.com/PU5FwWRzj8

— Michael Hobbes (@RottenInDenmark) March 31, 2021
• Oh, how cute! New York has finally gotten around to legalizing recreational cannabis. Let us know if you guys have any questions on how to use it!
• HELLO, STONERS! You will be pleased to know that SPLIFF—the short flick film festival about cannabis and all things "stoned"—is kicking off April 16-24 and you can get your tickets NOW. (So hurry up before you forget... because you know you will.)
• And now... THE WEATHER REPORT: Expect a nice sunny day and a warm high of 68! (That's two degrees away from thong weather!)
• And finally, here's hoping you find your voice today.

This is the finest moment of any nature documentary pic.twitter.com/194NMDC4ud

— Lily Simpson (@LilySimpson1312) March 29, 2021