Here's your daily roundup of all the latest local and national news. (Like our coverage? Please consider making a recurring contribution to the Mercury to keep it comin'!)
Sponsored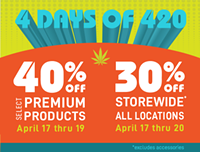 30-40% off Premier Dispensaries April 17-20
Flower, pre-rolls, edibles, carts and more.
These 4 Days of 420 are for you.
In local news:
• We're seeing an uptick in COVID-19 cases in the Portland metro area—some of which could just be a data-collection issue caused by later reporting. Still, public health officials are urging people to still follow pandemic safety guidelines until we're fully in the clear.
• An independent firm has been hired to conduct an investigation into serious allegations of sexual harassment at Oregon Health & Science University (OHSU), and the university's handling of those incidents. Former US Attorney General Eric Holder is leading that investigation.
• After multiple COVID scares have occurred at the Oregon State Capitol, Governor Kate Brown is directing the Oregon Health Authority to set up a private vaccine drive-thru clinic for state lawmakers. That means elected leaders will have easier access to a vaccine appointment than many of the constituents they serve.
• If you haven't yet, be sure to check out this great guide to building up a Japanese ingredient pantry at Portland's Asian supermarkets, from Eater PDX.
In national (and international) news:
• President Joe Biden unveiled a whopping $2 trillion infrastructure proposal today—one he said would create good-paying union jobs, improve the United States' crumbling public infrastructure, and help the US recover from the economic wreckage of the COVID pandemic. Here's hoping it passes through Congress.
• French President Emmanuel Macron is ordering the country to enter its third COVID-19 pandemic lockdown, as positive cases rise in the country. Macron is ordering schools to close, and nobody will be able to travel further than 6 miles from home without a good reason. The country reported 59,038 new cases today.
• Arkansas recently banned trans healthcare for anyone under 18, and more states are set to follow. Meanwhile, families with trans kids in these states are facing dire consequences—and some may even be forced to move in order to protect their kids.
• Donald Trump (remember him?) currently faces several different lawsuits for his influence over insurrectionists who stormed the US Capitol on January 6. That includes a new lawsuit, filed this week, from two US Capitol police officers who blame Trump for inciting violence, and inflicting emotional injuries, onto them.
And just for fun:
• If you're looking for a good summer read (and by "summer" I mean "early spring and it's above 50 degrees"), be sure to check out this sweet YA rec.
• Dispatch from Mars:
While the helicopter is getting ready, I can't help checking out nearby rocks. This odd one has my science team trading lots of hypotheses.

It's about 6 inches (15 cm) long. If you look closely, you might spot the row of laser marks where I zapped it to learn more. pic.twitter.com/sq4ecvqsOu
— NASA's Perseverance Mars Rover (@NASAPersevere) March 31, 2021