Good morning, Portland! Here's our latest to-go cocktail recommendation from Hale Pele, because who couldn't use a nice fruity tiki drink right about now?
Sponsored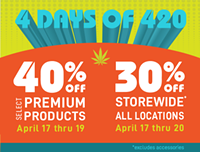 30-40% off Premier Dispensaries April 17-20
Flower, pre-rolls, edibles, carts and more.
These 4 Days of 420 are for you.
And here are the headlines.
• President Joe Biden announced his $2 trillion infrastructure plan yesterday, aptly titled the American Jobs Act. Here's a breakdown of all the ways the act could help mitigate climate change—from increased funding for public transit to providing tax credits for making the switch to renewable energy.
• Sate lawmakers approved a bill yesterday that will make it easier to convert hotels and motels in housing and shelters for unhoused people in Oregon. Currently, zoning laws can make this seemingly simple solution to the housing crisis a tricky move to pull off, but the new law eases those restrictions.
• "The greatest country on Earth."
The world's richest countries have received 86% of vaccines administered so far. Only 0.1% of doses have been administered in low-income countries.

The disparity, experts say, lies in how and when deals for doses were struck with drug companies. https://t.co/vcdwDD18Or

— The New York Times (@nytimes) March 31, 2021
• A shooter killed four people—including one child—in an office building in Orange County, California last night. The shooter is currently in the hospital with their own critical injuries, and few details are known about the shooting at this time.
• New data shows just how much the COVID-19 pandemic has exacerbated food insecurity in the US. Food banks across the country gave out 42 percent more food in the last quarter of 2020 than they did during that same time period a year earlier.
• A headline from the New York Times to make your blood boil: "As Cuomo Sought $4 Million Book Deal, Aides Hid Damaging Death Toll."
• Our neighbors to the north are expanding their vaccination eligibility as COVID-19 cases continue to climb. In Washington state, all adults will be able to get vaccinated starting on April 15.
• A Forest Grove couple is featured in a new HBO documentary that explores the outbreak of COVID-19 on a cruise ship early last year, at the very start of the pandemic. It's titled "The Last Cruise," and I can't decide if it's at the bottom or the top of my watch list.
• I'm blaming Dipsy for this one:
The TubbyCoin BigHugs! Token, an official Teletubbies cryptocurrency made with special HugTech from WildBrain Labs is here. For every like, share, comment of #TubbyCoin, the TubbyCoin becomes more valuable! Let's take it to the moon. 🚀: https://t.co/CZJn5R7NI9 pic.twitter.com/B1Nt8OjFXe

— Teletubbies (@TeletubbiesHQ) April 1, 2021