Here's your daily roundup of all the latest local and national news. (Like our coverage? Please consider making a recurring contribution to the Mercury to keep it comin'!)
Sponsored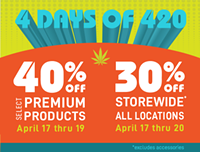 30-40% off Premier Dispensaries April 17-20
Flower, pre-rolls, edibles, carts and more.
These 4 Days of 420 are for you.
In local news:
• The three newest members of Portland City Council aren't on board with Mayor Ted Wheeler's plan to throw $2 million behind a police-centered solution to the city's gun violence problem. In a memo shared with Wheeler and Commissioner Jo Ann Hardesty on Monday, commissioners Carmen Rubio, Mingus Mapps, and Dan Ryan urged their colleagues to support a more community-informed and transparent response to the recent uptick in gun violence.
• At a press conference this morning, Gov. Kate Brown warned that Oregon could be heading into a "fourth surge" of COVID-19 cases—and urged Oregonians that getting vaccinated ASAP is the best way to prevent, or at least lessen, that surge.
• In related news: On Monday, frontline workers (as defined by the CDC) become eligible for the shot in Oregon. Today, Brown, expanded that new eligibility to also include family members of frontline workers. If you fall into either of these groups, go book your vaccine now!
• Okay, sooooo... does that mean I'm not getting my pair?
Nike wins temporary restraining order to halt sales of Lil Nas X 'Satan Shoes' https://t.co/qpZdsbQP3b pic.twitter.com/ERoIy7ieTr

— The Oregonian (@Oregonian) April 2, 2021
In national news:
• A driver intentionally hit two US Capitol police officers with his car today, killing one and injuring the other. It's not clear what the motives were of the suspect—who also died at the scene—or whether he was acting alone.
• A lead Minneapolis homicide detective testified in the Derek Chauvin trial today, calling the ex-cop's kneeling on George Floyd's neck until he died "totally unnecessary." Which is literally the least he could say about it!
• Today in "fuck around and find out":
MLB will move the 2021 All-Star Game out of Atlanta amid criticism of Georgia's new voting law https://t.co/qcKPAlk9ur

— The Washington Post (@washingtonpost) April 2, 2021
• Remember that ship that was stuck in the Suez Canal? Man, those were the days! Well, it turns out that whole thing is going to cause major shipping delays—including on consumer goods such as "tea, dildos, and more," according to Vox.
And just for fun:
• On your weekend to-do list: grab a delightful Japanese sandwich from Tokyo Sando.
• Also on your list: Watch the first episode of Top Chef's Portland season!
Is the new season of Top Chef (premiering tonight) good for Portland's ~brand~? What role does COVID play? And will this season finally be more inclusive and less ego-driven? @BlairStenvick explores all this and more in their review of the first episode.https://t.co/GEsmPBBHDq

— Portland Mercury 🗞 (@portlandmercury) April 1, 2021