Here's your daily roundup of all the latest local and national news. (Like our coverage? Please consider making a recurring contribution to the Mercury to keep it comin'!)
Sponsored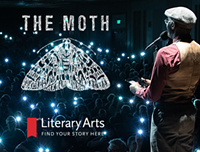 Literary Arts presents The Moth: Portland Mainstage. True Stories, told live. Held at Arlene Schnitzer Concert Hall.
In local news:
• You might remember the strange case of Michael Reinoehl, the Portland antifascist activist who was killed by federal agents last September (after he fatally shot a man at a Trump truck rally in downtown Portland in August). The feds claimed Reinoehl shot first when they apprehended him up in Washington—but Oregon Public Broadcasting studied law enforcement records, and have found a lot of holes in that story.
• Check out this lovely short documentary about Crisis Kitchen, a group of restaurant chefs and volunteers who started cooking and giving away rice, beans, and tamales at the start of the pandemic, and have since given over 10,000 meals to Portlanders in need.
• Oregon's first Shake Shack opens in Beaverton on April 16, and it's sure to cause a traffic jam in the Cedar Hills area. Hey, it's something, but it's certainly no In N Out! *Ducks to avoid rotten tomatoes thrown by angry "native Portlanders".*
• Ponzi Vineyards—one of Oregon's most celebrated wineries—has been bought by Champagne Bollinger, a French wine company. I guess that means you can refer to Oregon as part of the "Champagne region of France" now.
In national news:
• From the New York Times: "Evidence is mounting that a tiny subatomic particle seems to be disobeying the known laws of physics, scientists announced on Wednesday, a finding that would open a vast and tantalizing hole in our understanding of the universe. The result, physicists say, suggests that there are forms of matter and energy vital to the nature and evolution of the cosmos that are not yet known to science." (Heh heh, they said "tantalizing hole"!)
• In the same week that the Arkansas Legislature passed a bill criminalizing health care for trans kids, North Carolina's state government is now considering a similarly draconian bill that would also require teachers to out LGBTQ+ kids to their parents. The good news here is that North Carolina has a Democratic governor, and the bill is almost certainly not going to become law. The bad news is that the GOP has clearly decided that demonizing trans kids is the new winning battle in their perennial culture war, and they're going to keep pushing deeply harmful policies like this.
• And, as a reminder that ridiculous conservative culture wars always eventually fail: Virginia has become the 16th state to legalize recreational cannabis.
• Last August, Facebook said it would ban pages and groups "tied to offline anarchist groups that support violent acts amidst protests, US-based militia organizations and QAnon." But new reporting shows that for months after that ban, Facebook's advertising algorithm continued to categorize people as being "interested in militias."
And just for fun:
• The Mercury's own PIZZA WEEK IS BACK, BABY! Time to start strategizing.
• This is the kind of vaccine discourse I wanna see:
Pfizer bros vs. Moderna dudes pic.twitter.com/9QrVmr8mo4

— Billy (popular influencer) (@Your_Pal_Billy) April 7, 2021