We need your help. The economic fallout of the coronavirus crisis is threatening our ability to keep producing the quality reporting you've come to love. If you're able, please consider making a monthly contribution to the Mercury.
GOOD MORNING, PORTLAND! My mind was thugged, all laced and bugged, all twisted wrong and beat, uncomfortable in three feet deep. LET'S GO TO PRESS.
Sponsored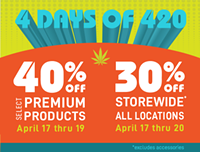 30-40% off Premier Dispensaries April 17-20
Flower, pre-rolls, edibles, carts and more.
These 4 Days of 420 are for you.
• The Portland City Council and Mayor Ted Wheeler reached a compromise yesterday and unanimously voted to pass a $6 million gun violence plan, one that would take a more community-driven approach, while also bringing back a dedicated team of cops—a kind-of "Gun Violence Reduction Team Lite," but with additional accountability and without putting more money in their pockets. (The police didn't like that last part very much.) Our Alex Zielinski has all the details!
While the new plan doesn't give PPB any additional $$, it does instruct PPB to reassign officers to focus on gun violence.

This reshuffling will informally reinstate the 12-person patrol team previously known as the Gun Violence Reduction Team (GVRT).https://t.co/0rmFVTY7dD

— Alex Zielinski (@alex_zee) April 7, 2021
• Remember Michael Reinoehl, the Portland antifascist activist who was killed by federal agents last September? The feds claimed Reinoehl shot first when they apprehended him in Washington—but OPB studied law enforcement records, and have found a lot of in consistencies to their story, discovering it was a very chaotic, uncoordinated scene.
• Here's a step in the right direction for the future of our country: The Oregon Senate has passed a bill to make passing civics a requirement to graduate from high school.
The application window opens on Thursday for $16 billion in shuttered venue grants. https://t.co/zp5al4OCYE

— OPB (@OPB) April 8, 2021
• Get ready to celebrate: The Mercury's PIZZA WEEK is back, bay-beee! Check out the 30 locations where you can get inventive, delicious slices for only $2—and it's all coming at you April 19-25!
IN NATIONAL NEWS:
• Busy Bee Biden is expected to announce a series of executive actions today about gun control—one of which is intended to stop the proliferation of "ghost guns," which are handmade guns without serial numbers, and not laser-shooting rifles intended to capture ghosts and store them in tiny boxes.
• Democratic Sen. Joe Manchin—who has apparently been fast asleep during the last 12 years of Republican bullying and self-serving obstruction—says there is no way and no how that he's going to vote to get rid of or weaken the filibuster, an act that would forward the Dem's progressive agenda and more importantly, serve the people he's supposed to represent.
We can preserve the filibuster, or we can preserve the voting rights of people of color. But we can't do both. pic.twitter.com/TFvfe7vEKs

— Hillary Clinton (@HillaryClinton) April 8, 2021
• Georgia's Republican Lt. Governor is admitting it—the state's new slate of anti-voting laws were inspired by Trump and his pals' false claims of election tampering.
• Senate Minority Turtle Mitch McConnell furiously backpedaled from recent comments warning corporations to "stay out of politics (but keep giving the GOP money)" after the entire world correctly called him a fucking hypocrite.
Yet another member of Team Trump has joined Fox News.

The conservative cable network announced that it has signed ex-Secretary of State Mike Pompeo as a paid on-air contributor. https://t.co/qrATBC2yXZ

— The Daily Beast (@thedailybeast) April 8, 2021
• In the ever-growing creepy-creep Rep. Matt Gaetz scandal, federal investigators are now looking into Matty's trips with women to the Bahamas, and specifically whether he paid them for sex at the time, which could violate federal law.
Republican Alabama Secretary of State John Merrill said fixation with 'homosexual activities' was harming U.S. moral core, he blamed the media and soccer star Megan Rapinoe @mPinoe

Today his sexting messages leaked including him asking to be pegged by his 44 year old mistress. pic.twitter.com/fwidUtEp7P

— i'm unwilling (@chris_notcapn) April 7, 2021
• Exciting music news: The estate of Prince has announced that on July 30 it will release a never-heard, 12-song, politically-influenced album from the purple one that he recorded in 2010!
• Today in "Wait... what?": "Woman gets pregnant while already pregnant, gives birth to twins conceived 3 weeks apart."
• Live comedy is BACK, and the Rose City Rollers and the Mercury are presenting a live OUTDOOR comedy event with an awesome lineup of hilarious local and nationally recognized comedians! It's coming at ya April 22, 23, and 24, so get your tickets pronto!
• HELLO, STONERS! You will be pleased to know that SPLIFF—the short flick film festival about cannabis and all things "stoned"—is kicking off April 16-24 and you can get your tickets NOW. (So hurry up before you forget... because you know you will.)
• And now... THE WEATHER REPORT: A mostly cloudy day with some sunbreaks and a high of 59!
• And finally... me, during the entire pandemic.

when everyone is busy so you have to entertain yourself pic.twitter.com/IjsqizdhqQ

— Living Morganism 🌱 (@ok_girlfriend) April 7, 2021