Don't get me wrong: delivery apps are great. We
love
the delivery apps. But the overwhelming preference of every living millennial is to text. So please,
don't make me call.
Sponsored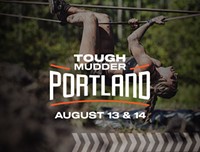 Lock in your summer adventure, Portland. Join us for world famous obstacles over a 5K or 10K distance.
But there's good news, millennials! Fulamingo is a delivery and pick-up grocery in North Portland that specializes in Japanese snacks, sake, and other cool items, and they also offer hot takeout lunch for pick-up on Wednesdays through Sundays. But the best news of all: You can just text them your order. They like it! On top of all that, their hot lunch is delicious.
Fulamingo opened in the fall of 2020, after wife and husband co-owners Kana Hinohara Hanson and Erik Hanson were forced to shutter Giraffe Goods, their little grab-and-go cafe in the back of eccentric imports store Cargo. Giraffe Goods was one of SE Industrial's best loved secrets, so fans followed the new set-up with interest. Much of the stock remains the same, except now customers place their orders on an easy-to-use site where flamingos occasionally pop out from behind products. Fulamingo is "flamingo" in Japanese.
Sure, a trip to any of Portland's larger Asian grocery stores could land you much of the same merchandise, but Fulamingo offers Hinohara Hanson's curation—always a big aspect of what people were looking for at Giraffe Goods.
Hot orders need to be called in—
or you can text!
—and as a bonus, anything from Fulamingo's non-perishable grocery can easily be added on. For instance, Corn Soup chips! They're sweet, they're salty—don't overthink the "soup" thing! And you can just
add
Corn Soup chips onto your Egg Salad Sando order, no problem. Speaking of sando, the Gado Fula Sando locks fried corn fritters from Gado Gado, pickled onion, cabbage, and mayo into tasty shokupan slices—it's amazingly sturdy and a cool way to get a little delicious Gado Gado flavor thrown into your lunchtime haul.
The Gyuu-don Beef & Rice arrives simmered to soft, juicy perfection. The first picture in this column shows off the 8 oz beef container—THAT WAS ALL BEEF. The marinated shiitake mushrooms that came with the rice (second picture) were a welcome touch. If all these foods sound so good that you can't possibly choose, Fulamingo offers a baller bento box, which comes with a number of their delicious cold salads (e.g. asparagus in sesame dressing, or shiitake and cucumber salad).
To be clear, you can't go into Fulmingo and look at their shelves. But if you're stealthy, you can place an order under the table while a meeting goes long. For pick-up, text your name to Fulamingo when you arrive. Order ahead and you can pick-up from locations that may be closer to you, like NE Portland's Colibri Flowers and Plants and, of course, Cargo. There's also the delivery option, which will set you back a flat ten dollar fee, but Fulamingo waves it on orders over $75.
Fulamingo, 2240 N Interstate, (971) 325-2889, fulamingo.com