Good morning, Portland! Happy 4/20 to all who celebrate—may I suggest pairing a $2 pizza slice with a stoner short film festival, as God intended?
Sponsored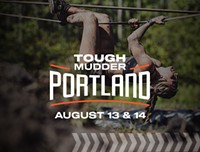 Lock in your summer adventure, Portland. Join us for world famous obstacles over a 5K or 10K distance.
Here are the headlines.
• The Portland Police Bureau (PPB) released audio from its radio dispatches related to the fatal police shooting of Portlander Robert Delgado in Lents Park yesterday. The audio reveals new information about the 911 call that led to the shooting, the responding officers' initial response, and the immediate aftermath.
• All Oregonians 16 and older became COVID-19 vaccine-eligible yesterday, but actually getting a vaccine appointment can be daunting. If you're in that boat, take a look at these helpful tips—and remember that even if you have to wait a couple extra weeks, your vaccination is finally in sight!
• Protesters marched for George Floyd in Northeast Portland last night. Some members of the protest group broke windows at the Blazers Boys and Girls Club and other businesses, but the person who broke windows at the Boys and Girls Club was quickly shut down by other protesters.
• Speaking of George Floyd: The jury started deliberating in the Derek Chauvin trial yesterday after hearing closing arguments from both sides. There hasn't been a decision yet, but it could come at any time—and depending on the results, heavy protesting across the country could follow.
• The US State Department will soon issue new international travel warnings, as COVID-19 cases continue to spike around the globe, and most other countries don't have the same vaccine privilege we do.
• A new scientific study suggests that middle-aged people who don't get enough sleep could be at higher risk of developing dementia in their old age. In light of this news, can we please all finally agree to make 10 am the new official start of the workday?
• In case you missed it last week, be sure to spend some time with this illuminating long read from Alex today:
It felt like there were some critical voices missing in the city's latest attempt to curtail gun violence.

In hopes of expanding the conversation, I spent time with Portlanders who have lived experience of being in a gang or work directly w/ gang members.https://t.co/ZNCx1Ji5ul

— Alex Zielinski (@alex_zee) April 16, 2021
• In an exciting move for Portland's many train nerds, Amtrak plans to start restoring its Pacific Northwest travel schedule next month, after cutting back on service during the pandemic.
• Stronger Skatepark, a rad indoor skatepark in Milwaukie, had been open less than a year when the pandemic hit. I recently spoke with owner AJ Waters about how the business survived, and their mission to make skating accessible to all who are interested.
• Okay, this is pretty sweet:
Excitement, fresh looks mark first day of in-person classes at Portland's Benson High. Teens so excited to be back they showed up in throngs an hour early via @EderCampuzano https://t.co/X2dsWnGHAg

— Oregonian Ed Team (@chalkup) April 20, 2021
• Let's celebrate! The Portland Mercury's PIZZA WEEK is back, starting today and running through Sunday, April 25! Check out all the slices you can score for a measly $2 each! (Whole pies are available, too!)
• And we'll end today with a dispatch from Mars:
Today I witnessed history. Now you can too. You're watching video of the #MarsHelicopter's first flight – a true "Wright brothers" moment.

Watch it all unfold:
✅ Spin-up
✅ Takeoff
✅ Hover
✅ Turn
✅ Landing

Read more: https://t.co/FIsf5RfHGj pic.twitter.com/hucsBY2RDE

— NASA's Perseverance Mars Rover (@NASAPersevere) April 19, 2021