We need your help. The economic fallout of the coronavirus crisis is threatening our ability to keep producing the quality reporting you've come to love. If you're able, please consider making a monthly contribution to the Mercury.
GOOD MORNING, PORTLAND! I know that we are upside down, so hold your tongue and hear me out. I know that we were made to break... so what? I don't mind. LET'S GO TO PRESS.
Sponsored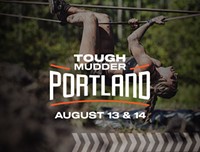 Lock in your summer adventure, Portland. Join us for world famous obstacles over a 5K or 10K distance.
IN LOCAL NEWS:
• As the three guilty verdicts of former Office Derek Chauvin (who murdered George Floyd) were being announced, Mayor Ted Wheeler announced a 24-hour "state of emergency" across Portland, fearing widespread protest and potential violence. Mercury contributor Suzette Smith was on the ground last night, and files this report:
On the night following the verdict of the Derrick Chauvin trial, around a hundred people gathered in front of the Justice Center in Portland's downtown. In their chants they demanded nothing less than total abolition of the police. On their lips was the name of Ma'Khia Bryant, a Black 16-year-old shot by a police officer in Ohio—news that broke on social media just as the Derrick Chauvin verdict was announced.

Of the hundred gathered downtown, 60 or so broke off to march through the streets, breaking windows, painting graffiti, and starting at least one trash can fire. When police attempted to intercept the march, one of the demonstrators decked a Portland police sergeant, which led to his arrest. Portland Police say they made two arrests last night in total.
• Required reading of the day:

Open Letter: A Call-In To The Portland Protest Communityhttps://t.co/lPgRsojtyJ

— We Out Here Magazine (@weoutherenet) April 20, 2021
• Thanks to variants and some of the public's refusal to abide by safety mandates, COVID-19 cases and hospitalizations are on the rise in Oregon, and Governor Brown is responding by moving 10 additional counties into the "high risk" category. More than half of the counties in Oregon are now considered "high risk."
IN NATIONAL NEWS:
• Following the guilty verdicts against former officer Derek Chauvin, Attorney General Merrick Garland has announced that the DOJ will launch an investigation into the policing policies of Minneapolis, saying that the guilty verdicts "do not address, potentially systemic policing issues in Minneapolis."
One of the legacies of George Floyd's murder should be that we cover this in every journalism, rhetoric, civics, American history, etc class.

Call it Critical Thinking 101. We would interrogate this and other official narratives: Who's telling them? Why? What's verifiable? https://t.co/eZAENE4wzw

— Pamela Colloff (@pamelacolloff) April 21, 2021
• Meanwhile the family of George Floyd—along with many others in the Black community—are expressing both relief and sadness following a rare verdict that so often favors the police. Said his brother, Rodney Floyd, "This right here is for everyone that has been in this situation."
• As mentioned earlier, just as the Chauvin verdict was being announced, news spread of yet another police shooting: In Columbus, Ohio, cops shot and killed Ma'Khia Bryant—a Black 16-year-old—saying she was attacking another woman with a knife. Police body-cam footage of the shooting and what led up to it has been released, and the officer is on administrative leave. Here's a description of the body-cam footage from the Daily Beast:
The video shows the teen wielding a knife as she rushes toward another girl. An officer yells "Get down! Get down!" then fires four shots as the girl swings at another with the knife.

Ma'khia Bryant, 16 years old, collapsed to the ground. A man can be heard yelling, "She's just a fucking kid, man!"

The officers tended to Bryant and called for a medic, authorities said. She was transported to a nearby hospital, Mount Carmel East, but died of her injuries.
This is my foster sister Ma'Khia I want her to be remembered as the sweet full of life young girl she was, not as what people are painting her out to be. I refuse for her to be painted as anything but the amazing girl she was #MakiahBryant pic.twitter.com/ayJsMcTwz0

— Asia (@itsasiiiaaa_) April 21, 2021
• Rep. Val Demings (D-Florida) laid into Rep. Jim Jordan (R-Asshole) yesterday during a hearing on a proposed hate crime law, after Jordan defended a Republican-introduced amendment that would prevent defunding the police—even though there was no mention of defunding in the measure. "Law enforcement officers deserve better than to be utilized as pawns," she snapped at Jordan, "and you and your colleagues should be ashamed of yourselves." Reminder: Jordan is an insufferable prick.
• Meanwhile Republican-led states are crafting legislation to punish protesters, including barring convicted demonstrators from holding office, or receiving student loans and housing assistance, and even more alarming, "granting immunity to drivers whose vehicles strike and injure protesters in public streets."
Stacey Abrams has been nominated for the Nobel Peace Prizehttps://t.co/wx4cAoVgSg

— Travis Akers (@travisakers) April 21, 2021
• President Biden is pledging that the US will cut greenhouse gas emissions at least in half by the end of this decade—but of course that will take cooperation from Republicans who plans on doubling their obstructions.
• Another day in America, another shooting: One person is dead and two others were wounded when a gunman opened fire in a Long Island grocery store. According to police, the suspect is in custody.
Biden's USDA just announced that it's extending a free school-lunch program for every K-12 student through spring 2022. https://t.co/0HKSsNxrvg

April 21, 2021
• HELLO, STONERS! You will be pleased to know that SPLIFF—the short flick film festival about cannabis and all things "stoned"—has kicked off and is currently running through April 24, so href="https://www.splifffilmfest.com/">get your tickets NOW.
• Let's celebrate! The Portland Mercury's PIZZA WEEK is back and running through Sunday, April 25! Check out all the slices you can score for a measly $2 each! (Whole pies are available, too!)
• And now... THE WEATHER REPORT: Another gorgeous day with a high of 77! (But watch out... clouds are on their way.)
• And finally, just a reminder to BE NICE to retail workers.

Part 2 of all of them pic.twitter.com/9CjyC6EoCz

— Scott Seiss (@ScottSeiss) April 20, 2021
Sponsored
Virtual Auction Event & Drag Queen Fashion Show. You won't want to miss this show!